Why is the number of women in tech roles declining?
Female representation within tech companies has been slowly growing for around a decade. But there has been a sudden drop – so we decided to investigate.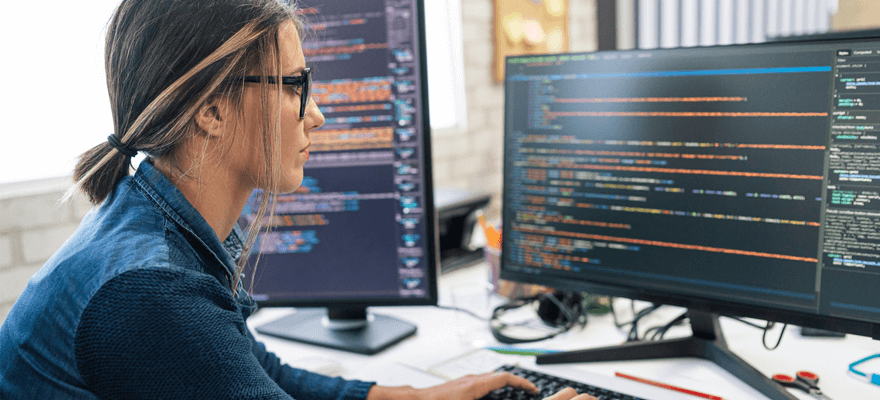 Given the good progress on diversity and inclusion in recent years, we were surprised to read on computerweekly.com that the number of women in tech roles was showing a significant decline.
The numbers…
According to figures from the Office of National Statistics (ONS), the number of women in the sector reduced by 17,000 between Q4 2022 and Q1 2023, and by 3,000 between Q1 2023 and Q2 2023. This decline occurred against a backdrop of wider industry growth with the tech sector having acquired an additional 85,000 professionals during the latter period.
Female representation had admittedly fluctuated in 2022 with the number of women in tech roles climbing from a low of 447,000 in Q1 2022 to a high of 532,000 in the third quarter of 2023. When long-term fluctuations are considered, HR data suggests that female participation in the tech sectors has grown slowly over the last decade, now sitting at 22%.
Given this modest historical growth and far from ideal steady state, any downward trends in female participation in tech deserve closer attention in case any discriminatory factors are at play.
Are women in tech being deterred by a lack of flexible working options?
Talking on computerweekly.com about the findings, expert commentator Andy Hayes from Harvey Nash suggests that this decline in women in tech could be linked to a recent move towards compulsory office-based working and more restrictive working patterns. This policy change may be disproportionately impacting women who place a greater emphasis on flexible working.
This is backed up by this research by womenintech.com which shows that 63% of women who work in the technology sector place flexible working as one of the most important benefits when searching for a job.
Also, when YouGov polled tech workers they found that, 'less than half of men aged 55 or above strongly cared about hybrid working compared to almost 75 percent of women aged under 55'.
So, women don't just value flexible working, they value it more than men and it's therefore understandable why they may be deterred from the tech sector, (which is trending toward office-first), in more significant numbers than men.
Female leadership in tech is declining
This decline in female representation is also happening in the boardroom and management sphere. This year we have seen two high-profile leaders in Meta's Marne Levine and YouTube's Susan Wojcicki step down from board-level leadership positions.
The CNBC article that reported this was careful to point out that Meta and YouTube had both increased their representation at the leadership level in the past year with Alphabet at 30.5% and Meta at 36.7%.
However, these two organisations had bucked the trend because according to DDI's 2023 Global Leadership Forecast, the percentage of women in leadership is in decline and now sits at 28%. This was a significant survey that took in the views of 1,827 HR professionals and 13,659 people managers from more than 1,500 companies around the world.
Again, the DDI researchers argued that a chief reason for this decline in female representation at the management level was down to issues around caregiving responsibilities driven by the unique pressures of the pandemic, (coupled with the insular nature of the industry). Women were being disproportionately affected by a lack of flexible working opportunities as they tended to be doing the majority of childcare.
While DDI hadn't managed to do a tech-specific data cut, they did find that another reason women are leaving at all leadership levels is a lack of opportunity to advance.
This may be driving women away in greater numbers as the DDI research showed that women were 1.5X more likely to plan to leave their companies to advance their careers than men.
What the DDI report also showed was a clear correlation between a decline in diversity initiatives during and post-pandemic and a decline in female leadership. Weighed down by the pressures of the pandemic, diversity projects were sacrificed.
In the UK for example, the gender pay gap reporting was suspended during 2020 and the 2021 deadline was pushed back 6 months. This may have negatively impacted female representation.
Reintroduce and reinvigorate flexible working policies
Of course, this makes grim reading for women in tech, but if there is a silver lining to be found here it is that some of these problems seem surmountable with the right HR interventions.
If HR professionals can reintroduce and reinvigorate flexible working policies, they can boost female representation in the tech sector. The evidence provided by DDI that diverse firms are 2.4 times more likely to outperform their financial peers will certainly help HR managers fight the corner for diversity initiatives in the boardroom.
Also, by automating and streamlining your diversity monitoring using HR software, organisations can always have compelling and actionable data available to both justify and engineer effective diversity programmes.
Have you seen a worrying decline in female representation in recent times? We'd like to know any initiatives you've created to boost diversity and inclusion.