Sense HR Software
HR Software for companies where People matter
Onboard employee's and contractors
Pre starter login area for welcome messages
Works on all mobile devices
Direct 'on document' e-signatures
Automatically calculate gross pay for payroll
Prices from £2 per person per month
SenseHR is launching early 2023, join over 570 other people who've registered for updates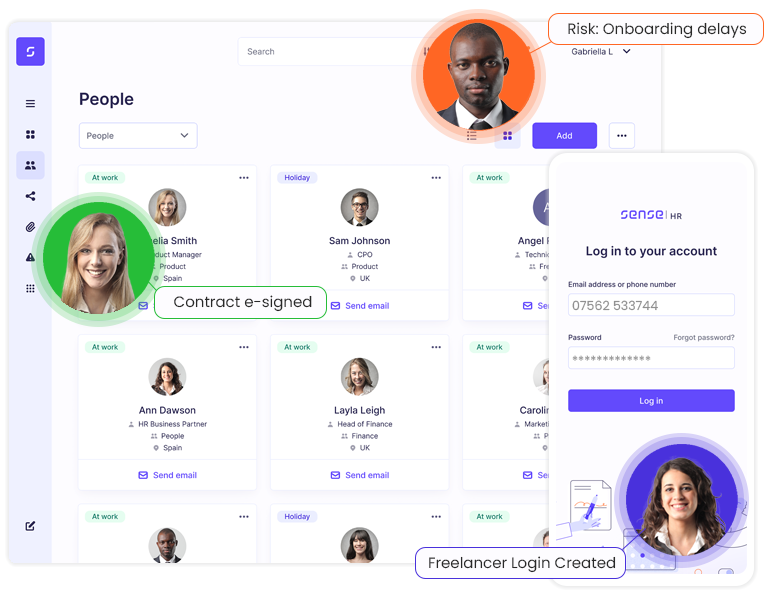 Transparent pricing
|
No hidden extras
|
Fixed for life
UK Phone Support (UK phone number available for all your people)
Online Support Desk available 24/7
Book yourself onto live Training sessions (unlimited)
Help guides and videos
Implementation
Data load service
One to One Training Sessions
Team
Per person
Per month
An HR system with all the basic HR essentials
UK Phone Support (UK phone number available for all your people)
Online Support Desk available 24/7
Book yourself onto live Training sessions (unlimited)
One to One Training Sessions
Premium
Per person
Per month
For ambitious organisations that are preparing for growth
UK Phone Support (UK phone number available for all your people)
Online Support Desk available 24/7
Book yourself onto live Training sessions (unlimited)
One to One Training Sessions
Elite
Per person
Per month
For high-growth organisations that need to streamline HR
UK Phone Support (UK phone number available for all your people)
Online Support Desk available 24/7
Book yourself onto live Training sessions (unlimited)
One to One Training Sessions
Explore the SenseHR Features
Unlimited Admin Logins
Unlimited Document Storage
All types of employment
Unlimited Leavers - Free of charge
Type to Search (across all areas)
Start on one device, finish on another later
Pre Start Date Site for future starters
UK Phone Support (UK phone number available for all your people)
Centralise your people information and automate the tasks you hate
Unlimited Admin Logins
New Starter Wizard
Unlimited Admin Logins
Employee Self Service
Unlimited Admin Logins
Pay Information
Customisable Profiles for different employment types
Benefits
Disciplinary & Grievance
Training & Qualifications
Address Finder
Bank Details
Emergency Contacts & Next of Kin
Org Chart
Dashboards
Leaver wizard
People Onboarding
Future Starter login area
Onboarding Workflow
Leaver Offboarding
Offboarding Workflow
Total Reward Statements
Unlimited Custom Screens and Fields
Rename Standard fields
Customisable Dashboards
Payroll - Gross Pay Calculations
Brand your SenseHR site to match your own company colours and logo
Full site Branding
Colour selection
Store and get reminded about your employee checks, or get SenseHR to do the checks for you
Alerts/Reminders
Background Check Storage
Security Check Storage
Unlimited Document Storage
SenseHR Background Check Processing
SenseHR Security Check Processing
SenseHR Document Validation
Sense Automate™ lets you automate any process
System Automation & Processes / Reminders
Tasks/To do/Reminders
Custom Automation & Processes for all areas
Custom alerts & reminders for all areas
Unlimited custom workflows
Store unlimited documents with full on document e-signatures where needed
Unlimited Document Storage
All file types supported
Document Templates
Company Policy Documents
E-Sign (Draw)
E-Sign (Type)
E-Sign (Direct on document)
E-Sign (Download with signature)
Integrate to your current systems, automatically prepare payroll data, or get SenseHR to run it for you
Payroll Integrations
Payroll Extracts
Gross Pay Calculations
Payroll Bureau
See who is in and who's away, integrate to your existing calendars
Group/Teams Planner
Individual Planner
Holidays/Vacation
Custom Absence Groups
Custom Absence Reasons
Pro Rata Calculations
Hours and/or Days allowance
Public Holidays
Bradford Factor
Custom work patterns & shifts
Outlook Calendar Integration
Google Calendar Integration
Book via Teams
Book via Slack
Book via Whatsapp
Block Dates
Custom return to work workflow
Custom return to work forms
Custom Absence Schemes
Sick Pay Calculations for gross pay
Track your people's time and calculate overtime pay
Time Tracking
Timesheets
Clock in/out
Sense Hardware Devices (one off cost)
Hours / Overtime worked Hours
Time gross pay calculations
Overtime pay calculations
Hassle free rota planning
Rota Management
Shift Management
Shift Swap
Build beautiful reports on any data to export, pin to your dashboard or share through SenseHR
Pre Built Common reports
Audit Tracking
Export
Point in Time
Custom Report Builder
Graphics
Include reports in Dashboards
Keep all your people fully engaged
High Five's (Thanks/Kudo's)
Skills
News & Announcements
Slack / Teams Integration
Custom Forms / Surveys
121's
Appraisals
Log into SenseHR using email or your mobile number
Email Login
Login via mobile numer
Multi Factor Authentication
Single Sign on
Custom access rights / profiles
Log into SenseHR from any device from anywhere
Progressive Web App
All mobile devices (regardless of version)
Apple (phone & tablet)
Android (phone & tablet)
Push Notifications
Recruit and onboard your new people faster
Linkedin Integration
Indeed Integration
Glassdoor Integration
Logic Melon
Integrate to the systems you love
Teams
Slack
Microsoft office suite
Google
Deputy
RotaCloud
Payroll
What is HR Software and what is it used for?
A Human resources (HR) software solution combines a number of systems and processes and is used by small and large businesses for better employee management—also called Human Resources Management Systems (HRMS), Human Resources Information Systems (HRIS) or Human Capital Management (HCM) software, Core HR, HR Administration software, It lets you manage employee data, payroll, expenses, benefits, recruitment, on-boarding, training, absence, workloads, performance and more.
HR Software
People Management
HR Systems
Learn more
Learn more about us
SenseHR is an HR System being built by HR technology experts with decades of experience working with HR teams across the UK and beyond, and is designed to help organisations not only manage a more flexible workplace, but to also grow and thrive as they welcome a new generation of people.
Book a call with us