What will the future office look like?
As the modern workplace continues to evolve, we decided to look at some of the trends we're seeing with modern office design – to answer the question: What will the future office look like?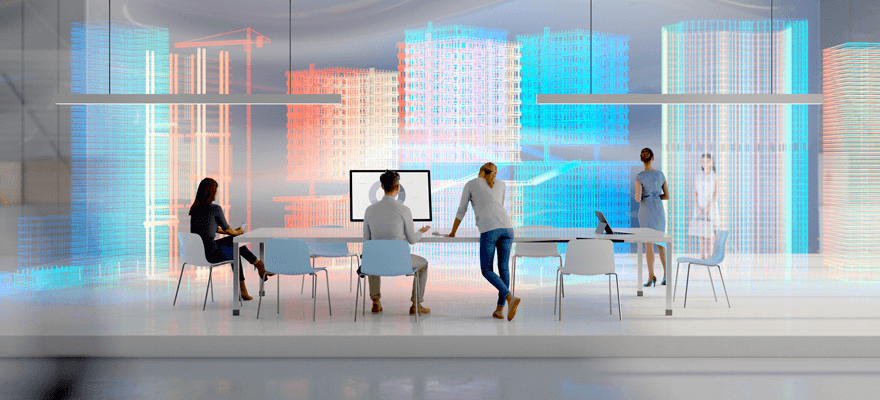 One thing that we can thank the covid 19 pandemic for was the disruptive effect it had on the idea of a classic office and traditional ways of working.
For years, HR professionals, thought-leaders, workplace futurists, and even employment law legislators tried to bring flexible working and other innovative work practices into the mainstream, with varying degrees of success.
While some companies were embracing flexible working, others were dragging their feet, and few were diving headlong into futurist work practices. Then along came Covid and almost overnight the world was forced to adopt flexible working to the max, and remarkably it worked pretty well, thanks mainly to an explosion in the usage of online, collaborative HR software of many different kinds.
In this post-pandemic period, hybrid working has become the working norm. Buoyed by this success and the explosion in collaborative HR software systems, the more progressive organisations are already preparing to move into the office of the future, but what will it look like?
Much more collaborative
Knight Frank, one of the world's leading real estate consultancies collated the opinions of over 400 global business leaders to see how they are evolving their real-estate strategies over the next decade. It seems that work requiring concentration and deep thought will be done at home, and much more efficiently as a result, ably supported by collaborative HR software.
55% of the survey respondents are predicting an increase in the amount of collaborative space found in their portfolios over the coming years, exemplified by more of the following physical design elements:
Digital conferencing facilities fitted with cutting-edge HR software connecting remote workers with the office.
Breakout spaces for employees for impromptu get-togethers.
Lounge area with soft seating as overflow space for socialising
Private booths to work quietly without distractions in a work from home capacity
Smaller, more fluid space with reduced occupational density
Expect to see smaller office spaces with perhaps a 50% or less desk-to-employee ratio.
36% of those surveyed by Knight Frank expect to have reduced occupational density too with fewer employers squeezed into rows of desks to boost health and safety and future-proof against social distancing diktats stemming from environmental health policy.
Offices will also be more fluid spaces that are highly reconfigurable in order to make the best use of the space available.
Outdoor offices?
Surface Magazine looked at the ideas of architects who have visualised/created futuristic offices having been inspired by covid-19 health concerns, the move to hybrid working, and the next big crisis of rising global temperatures.
Wolfgang + HITE built a prototype office that repurposed a typical New York mid-row office building which innovated by having an exterior workspace as part of the design. It also has sustainable energy features in that it uses rain-captured thermal water mass to slow heat loss and reduce energy consumption. The internal collaborative space contains a novel concept of zoom pods augmented with collaborative HR software for conferencing.
REI the American outdoor clothing and adventure brand recently designed the most 'outdoorsy' HQ ever, a kind of summer camp for adults containing fire pits, rooftop terraces, sliding glass doors, exterior staircases, skylights, and thoughtful landscaping.
Ironically as the pandemic drove REI's HR software and workforce strategy remote, they deemed the office surplus to requirements and sold it to Facebook for $368 million, who now plans to take this innovative new outdoorsy office forward.
We-work has really owned the outdoor working space concept bringing tomorrow's world unequivocally into today's office with its 7 beautiful, roof-top, sky-level outdoor working spaces. These were very popular during covid and could be in the future given that research from Harvard University shows that outdoor air provides huge productivity benefits to staff.
HVAC and ventilation features could be more prominent in the future office.
The Harvard study also showed that by doubling indoor ventilation rates the productivity gains per person per year reached $6,500.
So, perhaps the future offices will be equipped with state-of-the-art HVAC and much more structural ventilation than we've seen before, providing future protection against airborne disease, and maximising productivity. Maybe prominent signals of good HVAC and ventilation will become part of the employer brand as they will demonstrate healthy and productive environmental conditions.
Polycentric!
Montalba are true concept Architects and so their future office ideas are high-brow but compelling. They predict a paradigm shift in office design toward a polycentricity, (meaning, many centres of authority and control) with flexible, geographically dispersed hubs unified by sophisticated HR software rather than permanent large static offices.
In truth, their ideas are too esoteric to explain fully here but they again see the end of the traditional office layout and a move to universally configurable space which serves as a data hub where users can access HR software to connect with the data cloud and colleagues.
Some other ideas that were floated around in the surface mag article include changing rooms and showers for cardio commuters as standard, and school-style lockers for storage of work accessories so desks can remain as independent workspaces for anyone.
The future office is a fluid collaborative workspace and hub connected with other hubs and colleagues via collaborative HR software. Library-style work that requires deep thought and extended spells of concentration will most likely be done from home. Collaboration and teamwork activities will most likely take place in increasingly purpose-designed offices with outdoor working spaces, and advanced ventilation and which can be readily configured to suit the needs of the day.