The 10-step ladder to holiday management heaven 
To keep things running smoothly and nurture a supportive culture that encourages people to take their leave, HR professionals must build an efficient and effective holiday management system. To help you get started, here's our 10-step ladder to holiday management heaven.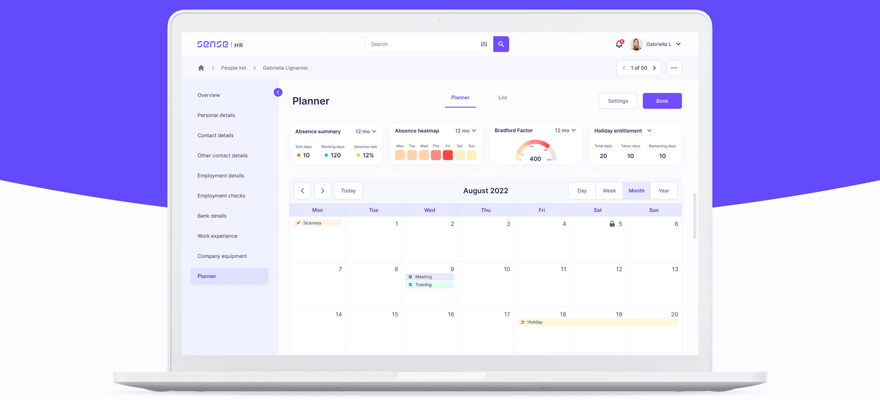 Does anyone else remember that HMRC advert where Moira Stuart and Adam Hart-Davis put on their most sincere expressions and told us all that 'Tax doesn't have to be taxing'?
Well, we're not about to make the same mistake and tell you that holiday management doesn't have to be … you know… managed. It does. If you want it to run smoothly, that is.
The smallest organisations— the ones that aren't much bigger than your average family—can just about get away with a less formalised process. And enterprise level organisations will usually have a holiday booking and management process that rivals a military operation—if someone goes down, ten more are ready to take their place. But for SMEs holiday leave is uniquely awkward. Roles are often occupied by one individual who is the only member of the workforce qualified or knowledgeable in their tasks. And a single absence usually makes up a substantial percentage of any team.
So, to keep things running smoothly, while nurturing a supportive culture that encourages people to take their leave, HR professionals must build an efficient holiday management system.
To help you get started, here's our 10-step ladder to holiday management heaven.
1. Compliance
Before designing your ideal holiday management scheme, make sure that you know the statutory entitlements for the employment types and regions that apply within your workforce and remember to factor in possible changes like additional public holidays.  
2. Policies
Your leave policy—or policies, if you have various contract types or a regionally distributed workforce—should be compliant. But it should also be easy for anyone to understand, transparent, and easily accessible. It can be a standalone policy or included within the company handbook, as well as covered within individual employment contracts. Manage employee expectations and encourage forward planning by setting clear guidelines for booking time off, like defining the amount of notice the organisation requires, whether public holidays are included in the allowance, whether any annual rollover is allowed, or whether the organisation offers an enhanced leave package.
3. Calendar
Whether you're organising company holidays across the lunch table, or on excel spreadsheets, or with a next-gen HR system like ours, every HR department should display holidays on a universally available calendar. Not only does it promote a fair, first-come-first-served process, which is clear to everyone, but it can be helpful in avoiding conflict and clashes and encouraging good forward planning.
Ideally, your calendar will be more than just a basic wallchart. HR software calendars will have viewable time-off schedules, show which public holidays are coming up (no matter which regions your organisation operates in), and highlight any clashes with other organisational events. And with the best HR software solutions, you can tailor your calendar to suit your organisation.
4. Provide cover
It's the responsibly of the employer—which usually means the HR manager or line manager— to source cover while an employee is on leave. Poor cover management can leave your people dreading their holiday rather than looking forward to it, so it's important to navigate this element of leave planning gracefully. After all, employees need to know that they won't have to work twice as hard when they return from their break.
Consider introducing job sharing opportunities so that a single role is always covered by two people. Or if you're using next-gen software then you can map individual competencies and crossover skills for your workforce. By knowing what each person can do well, you can cover the role of an absent employee with a team instead of an individual. And remember, employment contracts should specify whether employees will be required to take on extra hours to cover for absent colleagues.
Organising suitable internal cover can also become the foundations of good succession planning so, it will pay dividends for your organisation as well as your workforce.
5. Easy booking
Whether you're using an automated system or a manual system, you need to make the booking process as simple and straightforward as possible for your people.
This is where a good holiday management software or HR system can really shine. It can be the difference between a booking system that takes weeks, or one that is fraught with obstacles, and political considerations, and booking system that takes seconds. People often feel nervous about asking for time off and being responsive and accepting as many requests as possible helps to encourage a healthier work-life balance and a good company culture.
With self-service portals, workers can see existing holiday schedules on the calendar, make decisions, and request time off in a matter of seconds. And employers can choose to automate acceptance if certain tailored conditions are met or approve requests manually.
6. Transparent entitlement tracking
Entitlement tracking can be done with spreadsheets, but the manual process it makes it harder on everyone. With good HR software you can automate the whole process according to an employee's contract and working hours. Calculations are instantaneous, can be made available through a self-service portal, and automatically update through the leave year as holiday is taken.
And it simplifies the process for different employment types, international workers, and varying working patterns.
No more daily requests for remaining allowance or complicated calculations! And that's empowering for your people and liberating for you and your fellow HR professionals.
7. Lock days
It's much better to block certain days for booking holiday in advance, rather than waiting until an employee makes a request and then refusing it. For example, you might want to make sure that finance or payroll don't make leave requests around the company year-end. Or all your warehouse staff might be needed through the holiday seasons. Or there may be an organisational event that is mandatory for certain roles to attend. By specifying lock days in contracts and holiday policies, you can take pre-emptive action on inconvenient leave requests.
While this can be achieved with contractual terms, or using spreadsheets, or even wall planners, HR software can make it even easier and more flexible. Lock days can be added, changed, or removed for one person, company-wide, or anything in between. However, lock days should always be used sparingly and only as necessary to avoid an anti-leave culture.
8. Public holiday system
In the UK, public holidays are usually known as bank holidays, and everyone should think of them that way—as holidays for banks. That means organisations can set bank holidays as working days, mandatory days off, or optional days off. They can also include them in the statutory allowance.
But public holiday rules will vary in different regions and any leave management scheme should account for the relevant public holidays.
9. Reports and trends
Manual methods can't automate the insights that SMEs need for a proactive holiday management system. But with HR software, you can tailor your system for automatic reports and alerts that support management. For example, burnout reports can let you know when people haven't taken a break for too long. And you will know when recurring patterns appear within your workforce and can plan for them.
10. A culture of wellbeing
During your holiday management planning, and while you write or oversee your policies and procedures, make sure that your organisation is encouraging holidays to be taken and educating staff about the importance of holidays. Ask managers and leadership to lead by example, by being vocal about their time off.
The easier and more accessible your holiday management system is, the better it will be for you and your people. Employees will feel empowered to take control of some of the essential aspects of their working like and feel reciprocal trust. And they'll be more likely to plan, manage, and use their allowances, which will lead to more productive and loyal workforce.
And in fact—dare we say it… yes… yes, we do—with next-gen HR software, holiday management almost manages itself. Take that Moira Stuart!