How important is office attendance in the modern workplace?
How important is office attendance these days? We investigate both sides of the debate – and look at easy ways to automatically track who's in and who's out.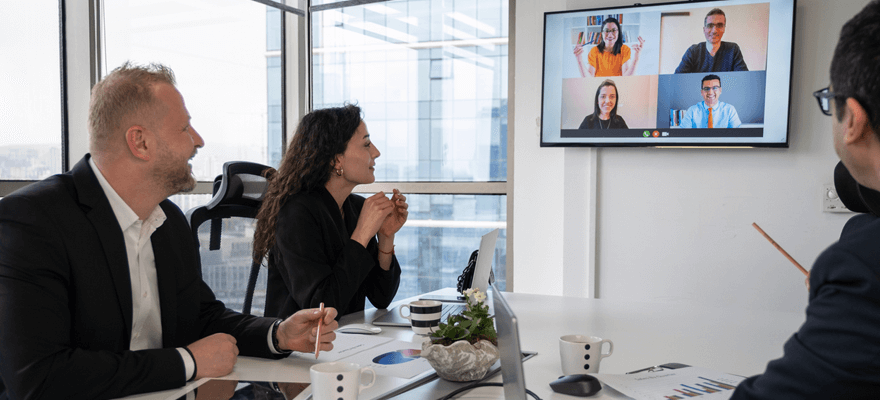 Recent data from the ONS reveals that 46% of UK workers are now traveling to work exclusively, 14% are working from home exclusively and 24% are working from home, and traveling to work in a hybrid capacity.
An assumed legacy of the pandemic is that those who work in the office exclusively have now become the statistical minority, which suggests that office attendance is not as important as it once was.
But as you probably guessed, it's not that straightforward.
There is a tug-of-war between bosses and employees around homeworking
There is tension behind the scenes of this new flexible working status quo, with management and employees pulling in slightly different directions on this issue. HR Managers have a careful balancing role to play.
On one side of this tug-of-war are employers with 7 out of 10 companies worldwide issuing return-to-office mandates. On the other side are employees with just 1 in 10 of them wanting to return to the office full-time and 24% wanting to work entirely from home, according to the World Economic Forum.
These stats from the workplace consultancy AWA suggest that employees are edging this tug of war as their data reveals that workers are coming in an average of 1.4 days a week in companies that require office attendance two days a week. That's just over a half-a-day-a-week attendance shortfall that HR managers need to address.
Office attendance is more important to bosses than it is to employees
The World Economic Forum (WEF) data also showed us that office attendance is much more important to senior leaders with just 10% of bosses favouring full-time homeworking, compared to 19% of middle managers and 28% of junior employees.
The reasoning behind their answers was that junior staff believed that homeworking is more conducive to collaboration for hybrid or office-based work, but senior staff believed that collaboration was best in an office setting.
Can adopting an activity-based approach to office attendance help?
By adopting a more flexible activity-based approach to office attendance, rather than a more rigid job-based approach, some HR thinkers say that employers can find a constructive way forward.
For example, this study by Unispace Global Workspace, reported on by hrmagazine.co.uk, surveyed 9,000 employees from 6,650 employers around the world, discovered that employers had higher confidence around specific activities being carried out in the office versus home, which were recruitment (89% vs 73%) and training new staff (84% vs 70%).
Therefore, if certain white-collar activities like interviewing, onboarding, and training of new employees can be accepted by employees as on-site activities (to appease employers), then in return, some say that flexibility can be offered by employers around other activities more suited to home work. For example, junior employees preferred doing collaborative work at home, (perhaps due to greater utilisation of social tools by this generation).
Another activity with strong claims for home work suitability is work that requires deep concentration and minimal distraction like policy writing, article writing, coding, etc… Often this can be completed just as (or more) effectively at home in a quieter environment free of distraction. Especially if the office itself does not offer library-style ad-hoc workspaces.
An activity-based approach, (rather than a purely job-based approach) to office attendance can prove to be a constructive way out of this stalemate for HR managers and people managers.
We know there are drawbacks to working at home relating to mental health stemming from isolation, so office attendance can be important for maintaining mental health and resilience and giving and receiving social support. But home workers can attend local co-working hubs to mitigate this to some degree.
Use analytics to evaluate the importance of office attendance to your business
These days employers don't have to guess how important office attendance is in the workplace, they can measure this with analytics. For example, Bluetooth-based technology now helps people managers see when employees are inside or outside the office. This is being used to measure occupancy levels in hybrid offices to avoid wasting money on office space that isn't being used. SenseHR customers can even get this technology for their own office or work site, to automatically detect who is in or out on any given day, week or month.
By correlating this occupancy data with pulse surveys and other productivity data from your HR software, employers can also see if and how much office attendance impacts engagement and performance.
I am sure it won't put the argument to bed one way or another, as the office versus home debate has some way to go, but it may offer some constructive insights for HR Managers.
Although it may be inconvenient for some, (i.e., working parents, those with long commute times etc…), office attendance plays an important role in the modern workplace, providing social support, face-to-face employer brand-building (during hiring and onboarding), and relationship-building and bonding.
But, by adopting a more activity-based approach to office attendance rather than a more rigid office-first approach employers can develop a win-win approach that balances the needs of office-first champions and remote work heroes!