How AI is making its way into HR
AI is making its way into all different types of HR software, from recruitment to training to HRIS. In this post we look at a few different HR use cases for AI.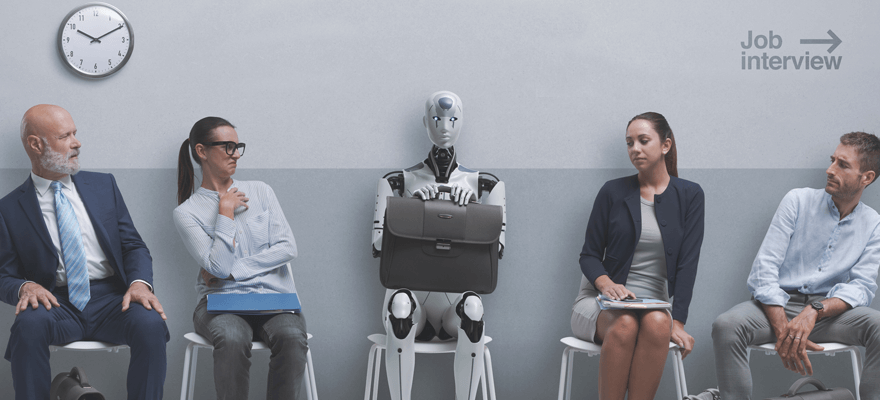 Now the dust has settled after the initial frenzy for ChatGPT, we can see that generative AI remains popular with the masses. However, beyond the obvious novelty, there is now a growing cohort of corporate and task-based users, seeking productivity gains or new capabilities from AI.
ChatGPT has grown up in a short space of time and we are now seeing it, (along with other generative AI tools) being incorporated into business applications, and yes this includes HR software.
Generative AI is helping recruiters access the gig economy more effectively
For example, if you are a recruiter, HR manager, or hiring manager accessing the gig economy then you may have noticed the AI assistant that Upwork has incorporated into their system.
Recruiters can now save time on Upwork by using their AI Job Post Generator, which can instantaneously create job post drafts that can be customised to your needs.
Upwork also has an AI chat tool that can onboard first-time users of the system by showing them how to navigate the system and how to hire and pay workers etc.
It is easy to imagine how this kind of AI onboarding could be extended to the new starter process within HR departments using an AI Chatbot that can access your own company's HR policies and procedures. HR software vendors (including the team here at SenseHR) are starting to incorporate productivity-boosting AI into the HR software offering. In fact, you can see what we're doing with HR right here.
Hewlett-Packard uses an AI Chatbot to convert website visitors into new hires
Hewlett-Packard (HP) now uses an AI Chatbot to engage with visitors to their career page to encourage them to apply for suitable opportunities and convert them into new hires.
It does this by asking the visitor for a resume, (or to answer some questions on their background and goals) and subsequently provides them with a list of suitable jobs and answer questions on these jobs based on their knowledge base.
HP claims that during the first 3 months of 2023, their Phenom chat technology has enabled them to convert 26% of casual jobseekers into new hires.
General Motors uses AI to drive its candidate relationship management process
General Motors (GM) has been successfully using Ev-e an AI chatbot in its candidate relationship management process. In the first year of using Ev-e, GM's time to schedule interviews was reduced from 5 days to 29 minutes and they saved $2,000,000 in direct staffing costs. Ev-e is now scheduling 50,000 interviews a year and offers candidates 24/7 support via email/SMS or WhatsApp. It can also answer questions about GM using its knowledge base and can recommend jobs to site visitors!
Employee training is being outsourced to AI-powered learning apps like Duolingo
Generative AI-powered language trainers have now arrived on your employee's mobile phone in the form of apps like Duo Lingo or Lingodeer, etc. They are gamified, personalised, bite-size, on-demand, highly addictive and autonomous, smartphone-based language learning apps aimed at the mass consumer. They are now finessing their way into the HR ecosystem by offering attractive B2B corporate packages aimed at companies with multi-lingual business interests to support collaboration within bilingual teams.
We expect to see a huge proliferation in this area with autonomous AI-powered learning systems being used to drive targeted learning in niche subject areas like onboarding, languages, health & safety, etc….
AI employees have arrived and could change the face of recruitment
Perhaps the most staggering AI implementation of all has to be Avery Ingram (AI), which is supposedly the UK's first AI employee and the world's first AI software developer and is currently available for hire. Avery is an autonomous AI tool that has been completely personified as a worker and that can assist software developers by simplifying their tasks, checking code, and clearing the backlog.
This will change the face of hiring: if recruiters are having problems sourcing talent in the coding area, they now have the option to hire an AI employee, basically saving the company time, desk space, and salary. HR managers will need keep to a close eye on the AI employee phenomenon as there may be some employee relations issues around job displacement and redundancy.
The direction of travel is clear: AI chatbots and AI task personas are being developed to help HR managers with a range of tasks at different stages of the HR workflow, from hiring, employee performance, engagement management, training and even potentially the dismissal of staff.
Are you using AI in your HR department? We liked to hear about your experiences with AI in HR in the comments below.