Four innovative ways to overcome talent shortages
Talent shortages have intensified over the previous two years, forcing HR teams to innovate and find even more new ways to attract talent into their organisations. Here are four great ideas you may not have considered.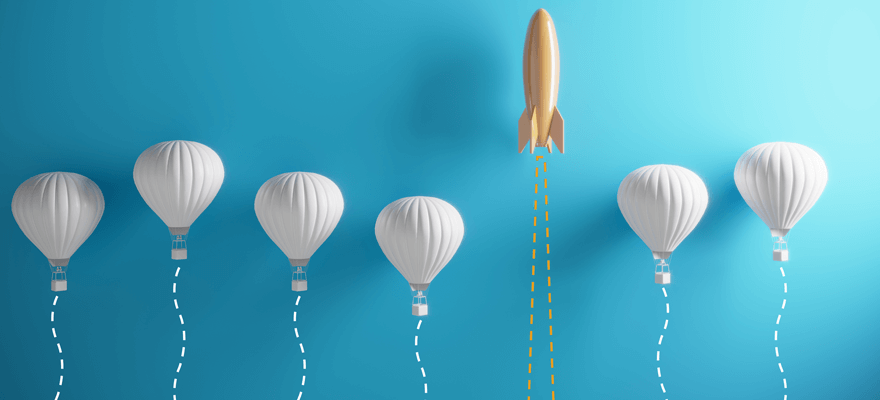 Talent shortages have only intensified over the previous two years, forcing HR teams to innovate and find even more new ways to attract talent into their organisations.
1. Artificial Intelligence (AI) – There's an AI for that.
Of course, we are not at the stage where we can fill empty desks with robots, but AI and automation technologiescan start selectively filling resource gaps and alleviating talent shortages. HR Software exists in so many shapes and forms, and as a result can automate or augment the HR process at each stage, by taking on time-consuming, repetitive, and menial tasks.
Whichever point of the HR administrative process is experiencing the most pressure, be that maintaining employee records, CV sifting, responding to applicants, scheduling interviews or appraisals, there's likely to be an HR app for that. You may not need to hire more talent. An app may be the more readily available, flexible, and cost-effective option.
We are seeing that apps are being used to alleviate talent shortages in business areas outside of HR. As a result, HR could have a progressive role to play in encouraging other areas of the business that are struggling with crippling talent shortages to consider an AI solution.
2. Offer flexible working and design jobs to be more flexible
Flexible working is a highly attractive benefit, but it is still in short supply. Just 26% of job adverts offer flexible working, which means it is still an innovative HR offering that will make you stand out.
According to this research, there are some specific demographic cohorts where targeted flexible working marketing campaigns might deliver especially good returns:
For example, just 3% of people earning over £60K and 6% between £35K and £59K are currently being offered part-time work compared to 19% in jobs paying less than £20K. This highlights an opportunity for greater engagement with high-earning job applicants by offering part-time working options.
Again, homeworking is rarely offered in lower-paid jobs compared to higher-paid jobs where it is more common, so there is an opportunity to engage more effectively with this lower-paid cohort by offering homeworking options.
As it currently stands some structural limitations limit the capacity for homeworking in certain jobs. However, with creative thinking, clever job design, and the selective use of technology it should be possible for employers to offer employees more flexibility even in historically in-person, front-of-house jobs in hospitality, retail, and the NHS.
3. Tiktok
After being launched just 6 years TikTok became the most downloaded app in the world in 2021, (having been downloaded over 3 billion times). Originally created as a tool allowing users to create short-form videos up to 3 minutes in duration it has grown into a hub for people to share funny moments, pranks, and more recently extreme sports and experiences.
1Since around 70% of the users of TikTok are aged between 10- and 40 years old this is a channel through which employers can target Generation Z and Millennials with recruitment campaigns.
It is also a great way to target women as 61% of users are female which could be particularly beneficial to industries such as STEM and the haulage sector which are both suffering significant talent shortages and under-representation of women. There are several strategies you might employ to exploit TikTok:
Ask your kid! Serious. They are spending up to 90 minutes a day on it, which probably counts as some form of expertise in this cutting-edge medium!
Thousands of TikTok job seekers post their resumes on the platform every day and you can find them by searching #ticktockresumes. Full disclosure: some of them are a little rough around the edges so it might take a little sifting!
See how the experts market jobs on TikTok? John Lewis can usually be relied upon when it comes to employer branding, so I'd recommend looking at #johnlewis and drilling down from there for inspiration. TUI has some pretty good employer branding content too on #tuiUK. Careful, from what I can see TikTok marketing is not about directly pushing jobs, but more a soft sell. John Lewis and TUI seem to offer a stream of shorts depicting working life with an emphasis on positivity and fun, as seen through the eyes of employee ambassadors!
4. Hand out recruitment cards to potential new hires
We all know about handing out business cards when meeting potential new customers or even suppliers, but some innovative companies are extending this practice to hiring. If your HR team or business leaders or line managers ever meet a service provider whom they think would be a great fit for the business, you can use special recruitment cards to exploit these opportunities. The card would be flattering, highlighting the person's exceptional qualities, (which caught your attention), and would invite the recipient to contact the card giver or visit a careers page. You can see a great example of this below with Midway Group: who got their recruitment card by running a design contest. There are also examples from Apple and Guaranty Bank below, who claim it became their best recruiting tool!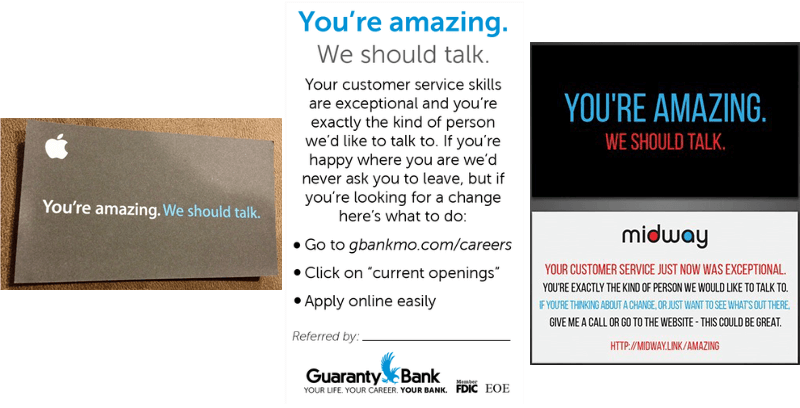 1 https://thesocialshepherd.com/blog/tiktok-statistics#:~:text=Females%20Accounted%20for%2061%25%20of,a%20pretty%20big%20gender%20gap.
Innovating in a world where everyone is an innovator mostly involves looking forwards. But the recruitment cards examples show that sometimes it can be worthwhile looking backward to forgotten practices that can be tweaked and revitalized to great effect in the modern world.