Can pubs and restaurants really offer flexible working?
Discover how the hospitality industry is adapting to the demand for flexible working – including examples from Youngs, Rick Stein and McDonald's.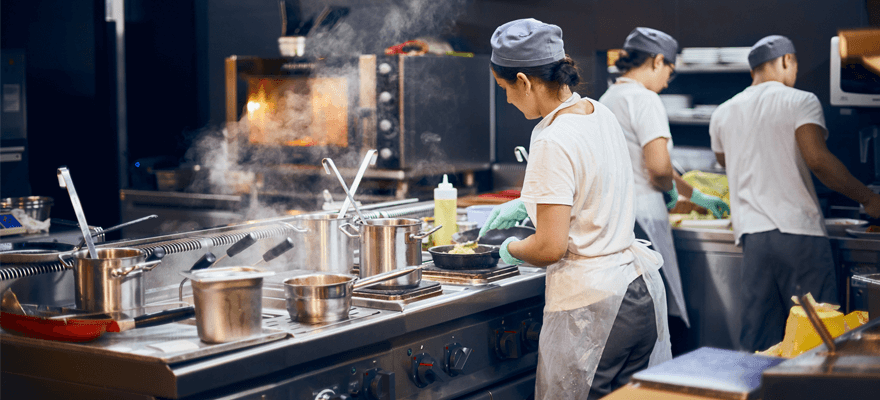 Historically, the hospitality sector's employment environment has been characterized by unsociable working hours and a long-hours culture. And for decades, hospitality workers have accepted this.
All that changed during the pandemic when the forced shutdown of the sector enabled hospitality workers to taste the attractive flexible working options from other sectors like deliveries.
Now the hospitality sector has reopened, it is finding that workers are not so keen to return to the old ways of working: recent ONS figures show that one in six new jobs created last year has been generated by the hospitality industry and vacancies in the sector remain high and nearly double pre-pandemic levels.
There is now huge competition for hospitality talent, particularly from other transferable industries (like goods delivery) that are able to offer flexible working which has for the moment become the Holy Grail of employee benefits. Pubs and restaurants now must adapt to the new world that demands attractive flexible working options if they are to attract and retain staff.
Simon Dodd, the CEO of the 200-strong Youngs pub chain spoke to the PA news agency recently and underlined the newfound flexible working sentiment in the hospitality sector: "We've got glass collectors who just want to work a couple of days here and there. We've got mums who drop their kids off at school and come and do a few afternoon shifts. We've got general managers that don't want to work full time anymore, students who come and go, and head chefs who work flexible hours and don't want to work at the weekend."
The Ram Agency
So, how have Youngs managed this flexible work challenge? They have developed the first-of-its-kind RAM agency, which is their own internal agency. This enables team members to choose to work shifts at any of their 220+ pubs using sophisticated HR software. Staff members can work where they want, when they want, full-time, or to their own schedule. Even just one shift a month if they like! So, thanks to them having a large chain of interconnected pubs and being able to use modern HR software for efficient shift allocation, they really can offer flexible work to their pub and restaurant staff. Arguably, this flexible model could be readily deployed in other restaurant and pub groups if supported by appropriate HR software and mobile apps.
Rick Stein
In response to a changing labour market, Rick Stein restaurants have recently launched a flexible careers scheme across all its establishments. Applicants of all ages and experience levels are welcome to apply for jobs for as little as one shift a week. They haven't gone into great detail about the logistics, but the co-founder and company director Jill Stein released this statement: 'Welfare is so important to us, and we understand that for some people a day or two a week is all that's needed, so we're ready to offer that with some amazing roles across the restaurants and shops."
A recent job advert for Waiter/Waitress at Rick Stein Marlborough outlines the extent of their flexible working offering: 'Flexible shifts. Family time and work/life balance are important to us, we'll work with you to find the shifts that work for your lifestyle, and full-time employees can request to work a four-day week.'
McDonald's
Mcdonald's restaurants have put flexibility as one of the four pillars of their employer brand offering alongside culture, support, and progression. On their careers site, they have videos of real employees talking up their positive experiences of flexible working at McDonald's. They also include this encouraging statement about flexible working on their careers site: 'Most shifts are scheduled to suit you, but also must take account working time legislation and our business needs.'
These three examples make it clear that by using HR software with shift planning functionality and having a critical mass of staff and locations, the hospitality sector can embrace flexible working.
Shift swapping
Smaller restaurants lacking this critical mass of staff may struggle to offer the level of flexibility that larger restaurant chains can offer. However, the natural trickle-down effect should see some of these flexible working practices adopted in independent smaller chains.
For example, by switching from paper-based shift planning to automated rotas using HR software and mobile apps, pub and restaurant staff can engage in shift-swapping with other staff, granting them additional flexibility.
Job sharing
By offering job-sharing (something that has been successfully deployed in other sectors), smaller, independent restaurants can split unwieldy long-hours jobs like head chefs and restaurant managers into two more slimline roles, providing a flexible working option, manageable using online shift planning HR software.
While it's becoming clear that pubs and restaurants can and should offer flexibility, it requires a strategic willingness to do this and the support of HR software, shift-planning apps, and mobile apps to manage the logistics. Restaurants and pub chains have led the way in flexible working as they have a critical mass of staff which makes flexible working options more workable. Independent restaurants can still offer some flexible working by enabling automated shift-swapping and job-sharing, again supported by specialist HR software.