Can ChatGPT help to automate HR?
Can ChatGPT play a role in automating your HR processes? We decided to put it to the test – and were pleasantly surprised by the results.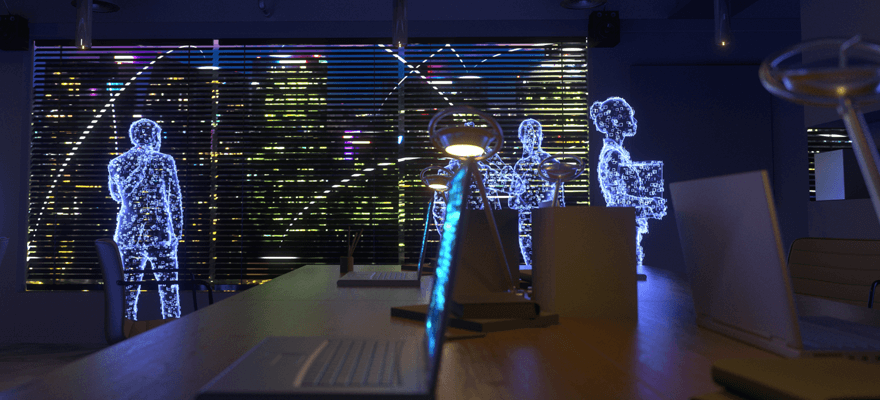 ChatGPT is a next-gen prototype artificial intelligence chatbot. It was developed by an organisation called OpenAI, an artificial intelligence research laboratory co-founded by Elon Musk. Since its launch in November 2022, it has caused quite a stir.
At first glance, it would appear similar to Apple's AI assistant Siri, or Samsung's equivalent, Bixby. But ChatGPT is so much more than a listening/talking search engine.
ChatGPT is a next-generation conversational AI that synthesises intelligent, often detailed answers to questions using information stored in its vast knowledge base. These answers are well-constructed and can be provided on almost any subject – and seem like they have been written by an intelligent, well-informed human.
The marketing industry is one of the first sectors to publicly deploy ChatGPT as a tool for writing marketing copy.  This Ryan Reynolds video is doing the rounds and showing him using ChatGPT to write a compelling new year marketing promo for his company Mint Mobile.
How can ChatGPT be used for HR?
This begs the obvious question for HR practitioners: how can ChatGPT be used to augment your HRIS and automate the HR process?
ChatGPT may not yet follow in the footsteps of the first-generation HRIS, in automating HR tasks. But it will be able to automate some of the more cognitively advanced tasks such as the preparation of HR policies and job descriptions.
ChatGPT writes an HR policy!
In the case of policies, a people management professional can today ask ChatGPT to draft, for example, an attendance policy for publication in your HRIS – and within seconds you will receive an instant draft.
I put this query into ChatGPT, 'write an unlimited annual leave policy in the UK in under 200 words ensuring to mention the statutory UK holiday entitlement'.
Here was the output:
'At our company, we believe in providing our employees with the flexibility and autonomy to manage their own time off work. That's why we offer an unlimited annual leave policy.
Employees are entitled to the statutory UK holiday entitlement of 28 days per year, which includes bank holidays. In addition to this, employees are welcome to take as much additional time off as they need, subject to prior approval from their manager via the HRIS.
We ask that employees give as much notice as possible when requesting time off and that they make sure that their work is covered during their absence. We also encourage employees to take a break and take time off regularly to maintain a healthy work-life balance.
We believe that our unlimited annual leave policy helps to foster a positive and productive work environment, and we are committed to supporting our employees in taking the time off they need.'
This is just meant to be an example and a starting point as this policy still needs further development. A skilled HR professional would need to provide the right additional queries plus further embellishments to get a UK-compliant and operationally sound end-product, fit for publishing in your company's HRIS.
But hey, what a start!
ChatGPT writes a job description!
Again, you could ask it to create a job description suitable for publication in your hiring HRIS.
Here's my query: 'In 200 words or less, write a job description for a finance manager in a rapidly growing company in Yorkshire and promote the company's flexible working policy and incorporate 4 bullet points.'
Here's the output:
'We are a rapidly growing company based in Yorkshire and we are seeking a highly motivated and experienced Finance Manager to join our team. As a Finance Manager, you will be responsible for the financial management of the company, including budgeting, forecasting, financial reporting, and compliance. You will work closely with senior management to provide financial insight and support decision-making. The successful candidate will have experience in a similar role and be a qualified accountant.
Our company values a healthy work-life balance and offers flexible working arrangements. Some of the benefits of working for us include:
Flexible working hours to suit your lifestyle
Remote working options
Generous annual leave allowance
Support for continuing professional development
If you are an experienced finance professional looking to join a fast-paced and dynamic company, apply now to our online HRIS and take the next step in your career!'
Of course, you can judge the quality for yourself but it's a pretty good draft. It's important to request specifics like word length, number of bullet points, etc… so it feels like a custom fit rather than a homogenous job description that you could just cut and paste from another ad.
ChatGPT authors your Twitter campaign!
I then asked ChatGPT 'to produce five unique twitter messages for a Twitter marketing campaign to promote a finance manager role at a cool company and which encourages readers to share on social media.'
Here's the Twitter output from ChatGPT, which needs some tweaking admittedly, but it is a good starting template that should save time.
"Calling all finance pros! Join our team at a cool company where you can manage finances and enjoy flexible working. The exciting Finance Manager role is now open! Apply now and take the first step toward your dream job! #FinanceManager #FlexibleWorking #CoolCompany"
Again, it's pretty good although reasonably generic and you need to request specifics from ChatGPT to custom-fit to your employer brand.
ChatGPT writes your interview questions!
Now, you've got some interviewees you'll need to develop some interview questions to store in your HRIS and ChatGPT can help with that. I asked it to 'Create 5 interview questions for a finance manager role 3 of which are behavioural, one of which is hypothetical, and one of which enquires about the candidate's knowledge of the business.'
It replied with
Can you give an example of a time when you had to make a difficult decision in your previous finance role? How did you approach the situation and what was the outcome?
Can you describe a situation when you had to work with a team to meet a tight deadline? How did you ensure that the team was productive and that the deadline was met?
Can you share a time when you had to present financial information to a non-financial audience? How did you ensure that the information was presented in a way that was easy for the audience to understand?
If our company were to experience a sudden decrease in revenue, how would you recommend we approach budget cuts to minimise the impact on the business?
Can you tell us about your knowledge of our industry and competitors? How do you stay informed about changes and developments in the market?
We could go on! ChatGPT can automate and eliminate the more robotic and repetitive tasks in the HR process, more so when integrated with an HRIS, freeing up HR professionals to work on creative and strategic work.
Of course, we should issue a word of caution around racial bias and AI. For some time, artificial intelligence has been shown to have a problem with bias. Fortune Magazine is just one of many sources that reported that AI can both exhibit bias and/or amplify any bias it has incorporated.
A UC Berkeley Professor has experimented with ChatGPT and publicly demonstrated the racial bias problem has not been fixed with ChatGPT in this Fast Company article. People Management professionals need to be vigilant of this when integrating ChatGPT into their HRIS and HR processes.
We don't mean to be the party poopers here. It's an exciting tool and I hope we have demonstrated our enthusiasm for it and the value it can bring to HR. But, ChatGPT does have intellectual and creative limits and so overuse could lead to homogenous content which could damage your brand identity. Also, this article suggests that Google may consider AI-generated content SPAM so you may want to consult an SEO expert as to the implications of using AI-Generated content on the web.
ChatGPT is not employment law trained, and if being deployed for HR tasks and integrated with an HRIS it should be under the careful stewardship of a people management professional.