7 pillars of wellbeing wisdom in the workplace. A guide for people managers. 
You've probably heard of the 5 pillars of wellbeing, but we like to shake things up a bit. Yup, we went wild and added another two. And we'll give you some great ideas on implementing all 7 and building a holistic wellbeing strategy.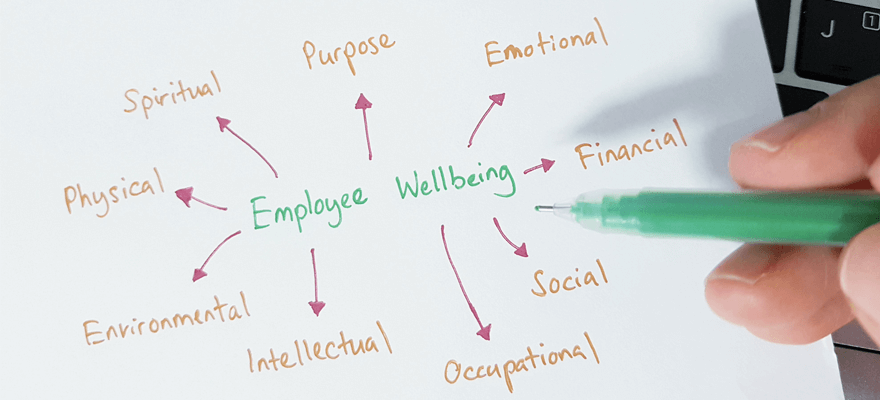 A few looooong years ago, the word 'wellbeing' wasn't a workplace word. Sure, there were a few forward-thinking employers and bloggers who were talking about it. And some modern workplaces were exploring new approaches with a focus on wellbeing, albeit in a haphazard way. But if you asked your average Joe and Simone about wellbeing, they'd probably have told you something about yoga, or detox diets, or fired up a photo on their Instagram of people wandering around spa hotels in bath robes and facemasks.
Of course, health concerns always put more of a focus on wellbeing. And as far as health concerns go, a worldwide pandemic is as big as it gets—cue a global focus on wellbeing. And workplace has been front and centre.
While lots of employers might feel that workplace wellbeing is just another fad or that, like social-distancing and facemasks, it'll fade back into pre-pandemic obscurity, it isn't, and it won't. Just like remote working, wellbeing concerns are here to stay.
And that's a good thing. For employees, the benefits of their own wellness and happiness at work are self-evident. But they pay huge dividends for the employer too. Poor workplace wellbeing has been linked to high turnover, absenteeism and presenteeism, and low productivity. And data shows that employees are negatively impacted by wellbeing concerns 27% of the time—losing, on average, 17% productivity—which translates to an average annual loss of £5,318.45 per employee. It's a great investment too—Deloitte has shown that for every £1 invested in mental wellbeing alone, the ROI is £5. Great! That's the boss convinced.
But that ROI is sure to go down if your wellbeing strategy is ill-considered. It's paramount that HR professionals not only understand wellbeing and why it's important, but how to implement strategies that actually work.
And before we get started, it might be good to make one thing clear—you don't have to don a bath robe, cucumber eyes, and fold yourself into a yoga-pretzel to achieve workplace wellbeing for you and your people. All you need is a genuine desire for your people to be comfortable, healthy, and happy while they work—because that's all wellbeing is—and we'll help you with the know-how and the tools.
A strategy for wellbeing
Wellbeing is a broad subject. Afterall, there are all sorts of things that contribute to good health, happiness, and comfort, and they vary with the individual, the department, and the organisation. Think of what makes you feel happy, healthy, and comfortable. Your list will probably look very different to the things that keep Dora from Accounts whistling her way to work. And a wellbeing strategy for couriers isn't going to translate well for a team of remote engineers.
It's the scope of wellbeing that makes it a daunting prospect for people managers to tackle. How can you possibly hope to keep everybody feeling good, all the time? The short answer is that you can't. And if you try, you'll end up stressed, burned-out, and demoralised—not a good look for the company wellbeing leader. But what you can do, is start putting together an action plan to address employee health and happiness, with the eventual goal of creating a holistically positive working environment.
The first step is identifying the crucial elements of wellbeing within a workplace… and luckily for us, some wish-granting Fairy Godpyschologists have done most of the work for us.
First came Martin Seligman, Professor of Psychology at the University of Pennsylvania and one of the founders of the field of positive psychology, who defined 5 pillars of wellbeing, which he labelled with the handy acronym, PERMA (positive emotion, engagement, relationships, meaning, accomplishment). Then in their 2010 book Wellbeing: The Five Essential Elements, Tim Rath and Jim Harter named 5 pillars of workplace wellbeing: social wellbeing, physical wellbeing, financial wellbeing, community wellbeing, and career (purpose) wellbeing. And through various revisions, different organisational implementations, and seismic changes for workforces in the last decade, the most recent pillars are often quoted as physical, mental, financial, social, and environmental or digital wellbeing.

So, climbing on the shoulders of giants, I've come up with the SenseHR 7 pillars of wellbeing wisdom, with an eighth bonus pillar too—I know right, TE Lawrence eat your heart out!
1. Finance
It's the most obvious one, isn't it? But so many organisations still get it wrong.
In the bad old days—that's the days before the people profession—it was enough to send someone their agreed payments on time, whether that was a salary or hourly wage. For bonus points organisations could agree to regular pay reviews, a decent benefits package with various insurances thrown in, and maybe some wellbeing products and services.

But financial wellbeing isn't based on payment, it's based on the way your people feel about their payment. And that's dictated by good financial management practices, which reduce stress and increase security. As well as being free to do the things they want, when they want to do them—after all, that's what money is for. Well, that and taxes, and energy bills, and mortgages… but after those things, it's about empowerment.
Some of the things that you could try to improve financial wellbeing in your organisation are:
Conduct regular market analysis of fair pay and implement the findings.
Provide competitive and fair industry compensation.
Conduct regular internal surveys to gauge satisfaction.
Career development, training, and mentorship programs.
Financial planning workshops.
Provision of financial literacy tools.
Provide access to professional, independent advice.
Deliver senior staff and line manager training so that they can anticipate, recognise, understand, and help with financial related stress.
A benefits package or software program that helps with common financial burdens like insurance, grocery shopping, transport, childcare, tech, and entertainment.
Offer the ability for employees to choose the benefits that matter to them.
Be mindful of work-related expenses and conduct staff surveys to ensure that common expenses aren't being overlooked.
2. Environment
The environmental factor of overall wellbeing includes physical elements of the workplace and how people interact with them and feel about them. It includes things like office layout, lighting, and décor, which can impact personal productivity of occupants by 20%. And among an increasingly remote or deskless workforce, digital workspaces and tools are important too. For example, research from Onecom found that 83% of the 1,000 SME workers surveyed said that they spent more time on their phone and using technology than they did pre-pandemic.
Some of the things that you could try to improve environmental wellbeing in your organisation are:
Consider open plan and flexible office spaces, which can increase collaboration and innovation, while challenging traditional hierarchies because everyone works in the same space.
Provide quiet rooms and private areas for concentrated work, business calls, or meetings.
Allowing people to choose where and how the work, wherever possible.
Provide ergonomic, inclusive furniture and allow some level of personalisation.
Keeping offices well ventilated and at a temperature of between 22 and 26 degrees Celsius.
Consider the needs of the workforce when planning the office environments. And ask them for their input.
For remote workers, allow a budget to set up a comfortable home working space.
Provide proper, prompt training for new technology.
Consider buddy systems that pair people who are proficient with a technology and those who aren't, so there is always someone to ask.
Use focus groups, short opinion polls, and start informal conversations on the company communication platform to gather staff opinions on their physical and digital working environments.
3. Connection
Social and community wellbeing came naturally in the pre-pandemic workplace. People would gather around proverbial—or actual (if you're in the US)—watercoolers and create workplace bonds and friendships. But social wellbeing can and should be achieved for remote or deskless workforces too.

Research suggests that we need at least 6-hours of social time a day. And that time doesn't have to be unproductive—it can include time at work, on the telephone, talking to people, sending e-mails, or any other type of human interaction. Friendship at work is an indicator for workplace wellbeing too, and a key engagement and productivity metric.
Some of the things that you could try to improve connection wellbeing in your organisation are:
Team participation in charitable events.
Shared social activities that are chosen by your people.
Lunch and learns with industry leaders.
Encourage and fund work clubs like reading, chess, or sports and games clubs.
Organise social events and nights.
For remote workers, organise social activities during work hours, like Escape the Room or virtual meetups.
Encourage employees to work in teams rather than going solo.
Finance employees who want to work in coworking spaces.
Try virtual classes from yoga to cheese tasting.
Start a non-work-related thread on the company communication platform.
Encourage daily, or weekly snapshots from employees. If you have employee permission to share the best ones on the company Instagram or Twitter, then it's three birds, one picture.
Host virtual open-lunch sessions with leadership teams, where anyone can turn up, eat, and catch up.
Do online quizzes and personality tests and discuss the results—it's a good way to get to know one another.
Try live remote working. It might be great for certain people and teams.
Think outside the box and ask for input for your people.
4. Culture
Meaning, fulfilment, and recognition all contribute to workplace wellbeing. But your organisational mission doesn't need to be meaningful to inspire you workers. It's a good organisational culture— preferably one that supports the goals and values of its people—that's important. Because purpose is about people liking what they do each day and being motivated to achieve their goals. And it's consistently the lowest performing element of workplace wellbeing. That's despite findings that having a sense of purpose at work considerably boosts overall individual happiness and prevents burnout. Or that people who find meaning at work are 3 times more likely to stay with their organisation, 4 times more engaged at work, and 7 times more likely to experience higher job satisfaction.
Some of the things that you could try to improve cultural wellbeing in your organisation are:

Encourage employees to have a voice through employee surveys, one-to-one reviews, and focus groups.
Tailor wellbeing efforts to suit the wants and needs of your workforce.
Show individuals how the company mission depends on their contributions.
Identify employee strengths, traits, and values and then help to find ways to use them.
Encourage and show mutual respect, dignity at work, corporate social responsibility, community investment, and volunteering.
Value difference and cultural engagement.
Train managers to encourage both individual and corporate-level self-reflection and create time for this.
Always make it clear why certain actions and approaches are being taken.
Establish and encourage systems for internal recognition.
Invest in leadership and management training programs.
Introduce enhanced, next-gen HR systems and tools.
Make sure that organisational values and leadership actions align to avoid creating a credibility gap.
Set frequent, clear targets, or SMART goals.
Give teams autonomy.
5. Work-life balance
Having a six-figure salary, or lots of work friends, or a cool, bendy work chair are all well and good—but if you don't have any time left at the end of the working day to enjoy your family, friends, and hobbies, then what's the point?
According to the Mayo Clinic, overwork and long hours can have a negative impact on health and relationships, as well as increasing stress levels, which leads to burnout.

Some of the things that you could try to improve work-life balance wellbeing in your organisation are:
Introduce flexible working models.
Offer generous paid holiday leave and encourage your people to take it.
Offer generous paid leave entitlements.
Personalised, experience-based bonuses to support leisure time for all.
Introduce policies that discourage working at weekends, or after a certain time. For example, no emails after 7 PM.
Discourage managers from setting new tasks towards the end of the working day, especially on a Friday.
Cross-train employees on time-sensitive or laborious tasks, so workload can be shared.
6. Physical health
Physical wellbeing is improved by taking regular exercise, eating healthily, and getting enough quality sleep. While poor physical health is linked to absenteeism, presenteeism, and low productivity.
Some of the things that you could try to improve physical wellbeing in your organisation are:
Conduct risk assessments.
Offer standing desks, balance ball chairs, and inclusive furniture options in offices.
Encourage team participation in various exercise challenges, charity marathons, and so on.
Encourage walking or hiking groups and meetings.
Provide fresh and healthy foods, like nuts, grains, teas and more.
Fund cycle-to work events.
Fund gym memberships.
Provide smoking cessation programs.
Provide staff with pedometers and link rewards to reaching certain step counts or heart rates.
Provide occupational health support.
7. Mental health
Physical health and mental health have a mutual impact—when one suffers, the other usually follows. And with over half of Millennials and 75% of Gen-Z admitting that they've left jobs due to mental health, it's time that employers and HR managers take proactive measures.
Some of the things that you could try to improve mental wellbeing in your organisation are:
Encourage open communication about mental health and stress—lead by example.
Schedule regular one-to-ones with line managers to discuss mental health.
Facilitate access to professional help, whenever its needed or wanted.
Organise mental health counselling and awareness sessions
Introduce stress management programs.
Provide conflict resolution training.
Train line managers on initiating and carrying out difficult conversations.
Provide a good employee assistance programme.
Bonus pillar of wisdom: Introduce an enhanced, next-gen HR system
To develop an evidence-based strategy and accurately measure the effectiveness of new measures, employers need to analyse the data. Data-led wellbeing strategies, coupled with self-service portals, show employees that they're being listened to, and that their employer is invested in their health and happiness.
As well as giving insights into what employees need and want, the data analysis and reporting tools provided by next-gen HR software, can highlight areas that need improving or demonstrate the effectiveness of certain efforts. And with HR software that can be tailored to the needs of your organisation and your workforce, you can focus on wellbeing in every aspect of your HR system.
And companies that take a data-led approach can expect to see a 4% improvement in their workforce wellbeing after just 3 months. 
(By the way, you should explore our website if you're looking for modern HR software that lets you manage your entire workforce with ease)
Time to make it official
Now that you've got all the tools, wisdom, and understanding, it's time to build a wellbeing strategy. But remember wellbeing is a flexible, personal, and evolving concept. So be humble about introducing new incentives, be prepared to try multiple things, be willing to change things up, and be open to feedback and employee input—after all, it's their wellbeing that's at stake.