7 best employee handbook examples and what we love about them.
Your employee handbook doesn't need to be stuffed with formal, long-winded policies. It can have personality! Here are seven great examples to inspire you.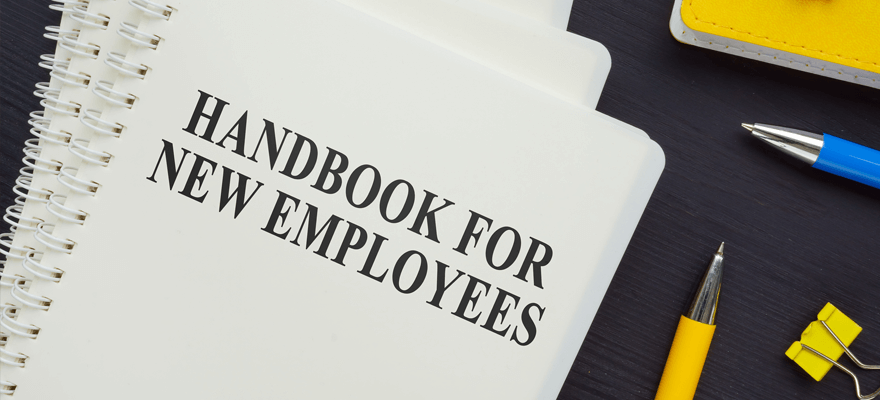 Research from ExpertHR revealed that left to their own devices 60% of employees would avoid reading their employee handbook. While employee handbooks are not a legal requirement in the UK, employers are obligated by law to make employees aware of all company policies, and an employee handbook is a great way to do this. Assuming of course you get them to read it!
To achieve good user uptake, employee handbooks need to be engaging, informative, and easily accessible to an employee (as opposed to being locked away in a filing cabinet).
The accessibility part of the equation can be achieved by using a modern HR system that will allow HR managers to electronically deliver employee handbook content straight to their employees' devices. Of course, you can have the best content delivery features in the world embedded in your HR software, but you'll need pertinent, timely, and engaging handbook content for maximum uptake.
Here are 7 real-life employee handbook examples with some great attributes which HR Managers can take inspiration from to produce or enhance an existing employee handbook.
Netflix – Handbook defines its unique working culture in a very convincing way.
Netflix is an organisation that is strong on values and its employee handbook does an excellent job of defining and expressing these values engagingly and authentically. It doesn't feel like corporate lip service; it attempts to differentiate itself from the typical bland corporate values statements, by emphasising that it's taken the time to establish its 'real' values, as demonstrated by its 129-page handbook on culture. As a result, you come away really believing this message.
Octopus Energy – Culture-led handbook for an innovative challenger brand
With its challenger brand status, Octopus Energy is an exciting new player in the energy market whom everyone wants to work for. Culture and values are big these days, particularly amongst millennials and Gen Z, and a significant part of the Octopus Energy Handbook is spent describing this engagingly and convincingly. Sections like, 'our values', 'rituals and cadence', 'high trust environment', 'where you work', and 'career and compensation' forensically define their attractive working culture.
Hubspot – Bold exercise in HR minimalism
Let's head back over State-side for a moment, to look at HubSpot's employee handbook. Well, they call it part manifesto and part employee handbook. It's pretty daring, taking employee empowerment or HR minimalism to the next level.
Again, they describe their culture and values in detail, but their extremely minimalist approach to formal employment policies is bold and eye-opening. But, with the highly successful HubSpot also being voted the second best place to work in Glassdoor's 2022 award, there must be some credence in this strategy. Take a look at the excerpt below to see what we mean.
'We don't have pages (and pages and pages) of policies and procedures. Instead, we have a 3-word policy on just about everything:
USE GOOD JUDGMENT.
Do what's best for the company and our customers.
Social media policy.
Sick day policy.
Buy your team lunch policy.
End work early because you forgot it was your turn to take your daughter to soccer practice… policy.
Our policy on all of these (and most other) things:
USE GOOD JUDGMENT.'
Of course, in the UK you'd need to ensure the legal bases are covered before deploying such a minimalist HR policy philosophy. But that doesn't mean you can't take inspiration from such an approach.
Being one of the oldest universities in England, we are not expecting fireworks here, but rather appropriate academic conservatism. The University of Oxford, however, delivers this in just 40 pages, which is refreshingly lightweight given the circumstances. It's comprehensive as you would expect, but precise and easy to follow. It's a good employee handbook example to follow for an academic organisation with its more formal, conservative, and dry tone without being too long-winded.
At 75 pages this could seem a little long-winded, but it adopts a relatively informal tone, making use of a friendly FAQ-style inquiry format throughout the document. Despite the length, therefore, it is quite engaging, (for an employee handbook!) and offers a more chatty, conversational feel as a result. It's a comprehensive document in a style that is well suited to a semi-formal high-street retail environment.
At 53 pages, it's also approaching mini-novella territory, but this is offset by the fact it has a clear table of contents and excellent information structure and hierarchy, meaning you can quickly find and link through to pertinent policies easily. A good option for organisations operating in highly regulated environments.
This is a very attractive well-branded employee handbook that perfectly balances a believable set of values that seem precise, concise, well-drilled, and aligned with their public image. This handbook has clearly been designed by publishing and page layout specialists to make it attractive, and possesses a clear information hierarchy. It's a document that wants to be read. It's been made easy to dip into and read thanks to quick links in the table of contents and illuminating headings and subheadings. It has professional services feel which is how Hays presents itself to the market.
No matter what format and style of handbook you choose HR Managers must have an effective content delivery strategy, using HR software that enables the handbook to be read on a PC, Laptop, or mobile device. This will ensure maximum accessibility to staff.
Have we missed any? Know of any other employee handbooks that deserve a place on our list? Let us know in the comments below.