4 of the most Innovative remote/flexible working practices and technologies. 
HR teams came out of the pandemic thinking the remote working debate was done – but the definition of "hybrid" working continues to evolve. Here are some of the most interesting approaches to flexible working we're seeing today.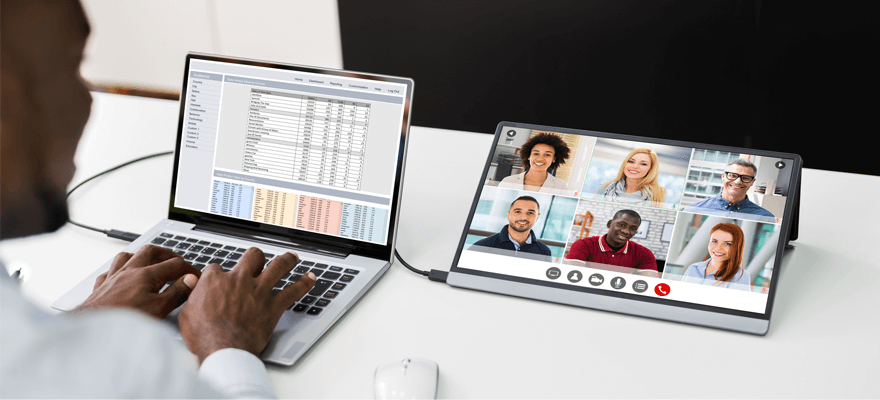 HR teams came out of the pandemic thinking the remote working debate was done: the enforced experiment had been a success and remote working had gone mainstream.
Sure, we expected face-to-face industries like hospitality and healthcare to go back in-house, along with some of the more conservative financial services organisations, but everyone else was going hybrid, right? Wrong! Public attitudes had changed across the board: now just about everybody wants to go hybrid. This meant that all sectors, (even the sectors that took in-house working for granted), needed to take a good look at themselves, and HR needed to be ready to devise innovative flexible working strategies to appease existing staff and attract new ones. Here are some of the most innovative approaches to flexible working we are seeing today.
1. Staff-less hotels enable flexible working in the hospitality sector
The hospitality sector was always going to be a tough nut to crack when it came to flexible working as a smiling human face has always been at the heart of this industry. But the sector is going digital, and change is coming.
Now what we see happening at Koncept Hotels in Germany is admittedly quite a bit ahead of the curve, but their radical approach to flexible working in hospitality may be a sign of things to come.
By digitising many of the typically in-person processes, (like check-in, purchases, etc..), they've reduced the need for onsite staff. Several of their hotels are so jam-packed with automation tech that they can run without staff, (apart from housekeeping) with everyone else working remotely.
I know what you're thinking: "that's in Germany, this wouldn't work in the UK". Well, one UK entrepreneur is giving it a go. According to this press release, Britain's first staff-less restaurant will open in Oxford this winter. EZ 24 Ramen serves Korean food which can be cooked and customised via machines. Staff will monitor the store remotely by CCTV 24 hours a day and a remote team member will have to visit from time to time to restock the machines and clean the establishment.
These two examples are way ahead of the curve but show examples of how remote working can occur in the historically face-to-face hospitality sector.
2. Work anytime -anywhere
Youngs' pub chain is not trying to automate away the need for face-to-face staff, they are keeping face-to-face hospitality at the heart of the culture. They have opened up their jobs network, comprising 210 pubs across the South of England, to all staff to use in a quasi-flexible way.
Through their internal RAM Agency portal staff, (or candidates), can access and flexibly construct their schedule based on their own lifestyle needs. Youngs claim to have shifts available daily across all their properties. This is a bold step forward in flexible working built on a slick HR Software System and I wouldn't be surprised to see other chains following suit.
3. Work anywhere with the Hub and Spoke Model
The cutting-edge Hub and Spoke Model is somewhat logical but at this stage, a bold evolution of homeworking, made possible by rapidly evolving HR software capabilities. Under this model employees can literally work from anywhere that they can be productive, not just at home.
The hub and spoke model has a central 'hub' where people can come together and connect but people also can work from spokes. These spokes don't have to be a conventional office but are basically any location where a person can be productive, such as a satellite office, home, or coffee shop, and can be an outpost of 50 or just one. Deciding where to establish a formal spoke office, rather than relying on informal spokes like someone's home depends on staff density in the area. If enough employees live in or around a city or market, a new spoke makes sense. Industry experts believe that many companies will start to adopt this hub-and-spoke approach.
4. Next-generation VR collaboration technologies
People have been socially gaming in virtual worlds now for some time. It's a billion-dollar industry that is pitched at the online gaming generation and owners of esoteric VR tech like Oculus Rift.
This tech is now trickling down into the corporate space to support remote working. Although in its infancy, companies offering VR Corporate Meetings are now emerging and may soon begin filling the space that 2D virtual collaboration tools like Zoom and Teams cannot fill.
Anyone with a VR headset, (or even without a VR headset) and an internet connection can participate in immersive VR meetings and this page provides a review of the ten best VR apps you can install on your VR headset for an immersive meeting experience with colleagues. These include apps like spatial, horizon workrooms, MeetingVR, Glue, and so on. Many of these tools allow you to customise the environment and can allow up to 50 users at a time.
PWC has been using VR headsets for meetings since 2017 but ramped up deployment during the pandemic to battle zoom fatigue. Its UK operation now runs 2 to 3 team meetings per week via VR and PWC doubled its own cache of VR headsets last year to 400, which is no small investment, given the price per unit.
Many of these cutting-edge remote work technologies and practices have been on the fringes of business thinking for some years and they are now being deployed in real businesses as remote working has shifted into the mainstream.