What is HR software? 
A Human resources (HR) software solution combines a number of systems and processes and is used by small and large businesses for better employee management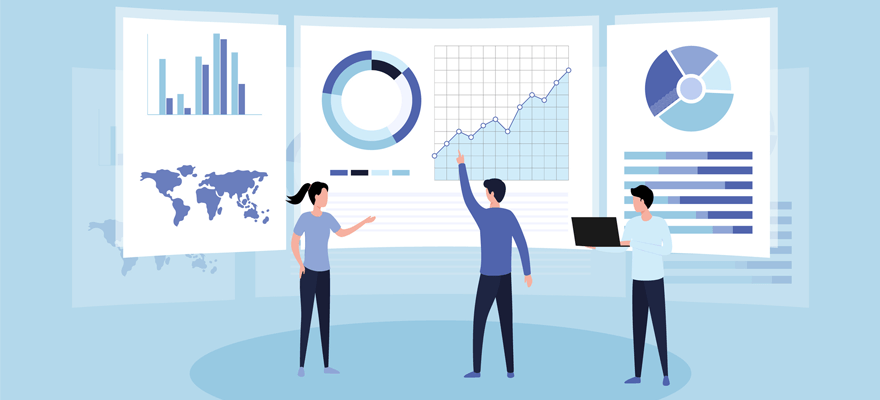 We get it—we really do—because not only do we make software, but we've run a few of our own HR departments over the years. You want a software that's going to optimise HR administration, empower and engage your people, automate repetitive processes, support strategic decisions, integrate with other software and systems, and stay ahead of the times and the legislation—in short, you want to make your HR department the jewel in the crown that is your organisation. But… you don't want to be replaced! Fear not, my irreplaceable HR afficionado, the first thing to know about HR software is that it's not replacing you any time soon. For everything else that you need to know, you've come to the right place. So, put down that signed copy of Robopocalypse, hit pause on Bladerunner, and let's unravel the riddles of HR software together.
An HR software by any other name…
A quick Google search might leave you with the impression that HR Software is going through a bit of an identity crisis, with different terms seemingly used interchangeably. While some sources stick with the term HR software, some use human resources information system (HRIS), for others it's a human resources management system (HRMS), and the new term in town is human capital management (HCM). Confusing, we know. But it all stems from the way that human resources systems evolved over the decades.
The first computerised HR system was a module for listing employee data, which was tagged on to an SAP payroll and accounting product in 1979. From there HR data management tools became part of other enterprise resource planning (ERP) systems and then standalone HRIS products.
It wasn't until the end of the century that HR systems started to do more than data-based administration, and a new term was coined to match their increased functionality—meet the HRMS. These were on-premises (and later, web-deployed) fully integrated, robust client–server HRMS application suites to help HR professionals with people management in the modern workplace. As well as data management, they streamlined transactional processes like payroll, benefits, recruitment, training, and talent management, while also tracking attendance and engagement.
As the web grew in scale and performance, so did web-deployed HR systems. And when retention became a hot topic because people were no longer staying with the same firms for decades or for life, HR software started to reflect the needs of employees, not just the hiring organisations and HR departments.
The 2010s saw the rise of intelligent technologies and cloud hosting—once again HR systems metamorphosed into something new and HR professionals and software companies began looking for a fitting name. Although not a new term, human capital management is increasingly used to describe natively cloud-built, SaaS applications that go beyond handling data and transactional processes and include automation tools to support strategic workforce planning and modelling, performance management, learning, succession planning, and compensation planning. These HR systems include all the traditional administrative functions—recruiting, training, payroll, compensation, and performance tracking—but also use the data to improve employee experience, engagement, productivity, and even business value.
While the traditional data based HRIS no longer exists, the term has endured to describe modern systems. That happens a lot in tech and language in general. Podcasts will live on long after iPods have been forgotten by everyone except avid collectors. And we don't go around thinking that the word dashboard means a sheet of wood in a horse-drawn carriage that protects riders from being 'dashed' my debris. And so, it seems that we'll be using the initialisms HRIS, HRMS, and HCM long into the future—and probably a few more labels to come—no matter what features and experience a software provides.
So, now that's cleared up… let's move swiftly on to defining HR software by what it can do.
An HR system for today and tomorrow
Today, HR systems centralise, secure, manage, standardise, and ensure compliance for your people data, while streamlining recruitment, training, absence management, and compensation. But they should also engage and involve the workforce, regardless of employment type or whether people are in the office, remote, or deskless. With self-service portals, employee surveys, and gamification features, HR software that's fit for the future invites everyone in the organisation to get involved.
On top of the standard features like supporting all your core HR tasks; automation of repetitive tasks; integration with other systems and software; time and attendance tools; reporting and dashboard features to support strategic functions; and self-service, HR software should elegantly scale with your business, adapt to the changing needs of your organisation and your workforce, and handle regional or global differences.
Something for everyone
Every organisation, from start-ups, specialist endeavours, and small businesses, to enterprise level multinationals can reap the benefits of a good HR system. And since most systems are tiered to cater for the specific needs of your business, you won't end up swamped in features that don't apply to your organisation or pay for more than you use. And the best HR systems will give the same, great experience, whether you have a small team of permanent employees or use multiple teams of employees, contractors, freelancers, zero-hour workers, and consultants.
Here are just some of the universal benefits of a good HR system:
Accurate, clear reporting: You don't have to decipher your employee data or unlock the potential held in your databases. An HR system will do that for you—delivering clear, insightful, and accurate reports based on KPI and other metrics.
Save time and money: Automated, centralised processes like leave requests and approvals and onboarding and offboarding, as well as real-time updates and notifications save everyone time. And the time and error costs associated with manual data entry and storage far outweigh the subscription charges for HR software.
Legislative compliance: Everybody from sole traders to PLCs needs to conform to regulations and legislation like data protection laws, health and safety regulations, and disciplinary and grievance procedures. Through features like automated reminders for data deletion, anonymisation, document tracking, and e-signatures, HR software keeps you up to date and compliant, always.
Employee engagement: From organisation wide communication hubs to gamification features like kudos and medals, HR systems keep everyone engaged and informed.
Security: As the threat of data breaches and system vulnerabilities increases, so do the practical and legal requirements to safeguard your people data. Cloud-based HR systems provide a secure environment as standard, and software is always updated in line with new regulations and threats.
Scalability: With cloud-based, subscription models, HR software can scale up or down according to your business needs, so you can manage costs and stay flexible.
And here is the major benefit of a GREAT HR system—it fully supports a modern workforce. Most HR systems were built to accommodate the needs of traditional, office-based workers. But today's workforces can be deskless or remote; contractors, freelancers, or agency workers; subscribe to a hybrid model; and much more besides. HR systems that are based on traditional working models treat these ever-growing patterns and practices as an afterthought, which doesn't work when workforces are changing so fast. But the best HR systems give everyone the same great experience as permanent, office-based employees, while also giving HR professionals the custom tools to manage and motivate a distributed, mobile workforce.
And, just in case you were wondering, SenseHR fits firmly into the category of the best HR systems. Explore our HR software today.