What exactly is HR Software?  
What are the capabilities of HR systems and what, if anything, can they do to add value to your organisation?
Do You Need HR Software?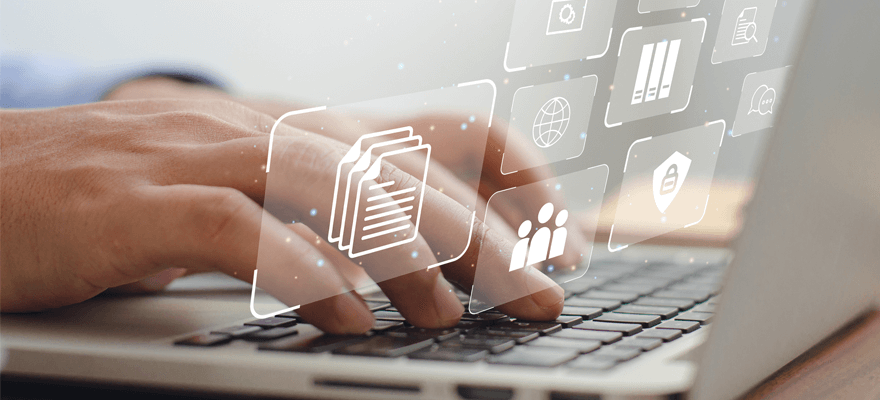 HR Software, Human Resources Systems, HRIS, HCM, HRMS. What does it all mean? Here's a breakdown of some of the terms you may have heard.
HRMS – Human Resources Management Systems
HRIS – Human Resources Information Systems
HCM software – Human Capital Management
Core HR, HR Administration software
Some of these terms distinguish software with more limited and industry-specific capabilities than others.
Jargon and acronyms aside, all these terms refer to computer technology that HR professionals use as a swiss army knife of tools, to collect, centralise, store and manage the dizzying and disparate wealth of people data, processes and programmes that come as part and parcel with their role.
What can you use it for?
As it turns out, just about everything.
1. Administration and strategy
Database storage
Compliance
Reporting
2. Financial administration
Pay information
Payroll
Expenses
Budgeting
Benefits
3. Recruitment and Off-boarding
Employee checks
Applicant tracking
Onboarding procedure
Offboarding procedure
4. Employee management
Time and attendance tracking
Workflow
Scheduling
Performance management
Building and developing company culture
Managing and optimising staff turnover
5. Building talent
Career pathing
Competency tracking
Succession planning
Learning, development and training
Development budgeting
Compensation
Employee engagement features
6. Engagement
News and announcements
Surveys
Appraisals
This is not an exhaustive list by any means but you get the idea.
Once you understand the capabilities of HR software, you can integrate and tailor it to your needs. It can essentially be like having a team of Personal Assistants at your beck and call 24/7.
What else can it do?
Unlock massive productivity gains
You can use HR software to digitise all of your data, keeping it organised and easily accessible from anywhere, on any device, by anybody cleared for access.
Any organisation still using hard copy files needs to be at the front of the queue for the changeover.
You can simplify everything. Salary and tax calculations can be automated, with employee data, payroll, changes to pay and schedules, employee hours etc, all integrated to form a one-stop payroll system.
The same applies to benefits admin', with explanations of policies and FAQs to help people help themselves.
Recruiting and onboarding can be accelerated by a wizard-led process — filtering applications according to your stipulated criteria and adding information to employee files once positions have been filled.
All repetitive actions can be automated, leaving your team able to concentrate their time and energy on the high-value tasks that help to deliver an excellent experience for your people and provide the best service from your business.
In the wake of the pandemic, it has become more essential than ever to be able to seamlessly integrate all members of your organisation, whether in-house, remote, freelance, flexi-time or consultant. The multitude of administrative processes and legislation that these different employee types will entail, can all be smoothly managed by an HRMS system.
Speaking of integrating systems, you can incorporate all your favourites – Teams, Slack, Microsoft Office, Payroll, Google, LinkedIn etc. The best Human Resources Management Systems really can be a fully customisable, one-stop shop.
Improve everybody's work life
An easy-to-use, intuitive and well-crafted HR system can reduce stress by increasing efficiency; consolidating all the software that would otherwise function independently from each other. The system is debugged of all the irksome little time sinks that frustrate and drag out the working day and the incidence of errors, that could cause serious issues, is greatly reduced when compared to legacy software.
Self-service log-in portals and tools give your people the autonomy to access information without having to ask, manage their data and action tasks such as requesting time off. HR can interact with these processes at a touch of a button. This functionality generally saves around 20-25% of administration time for HR and supports the kind of transparency and synergy that engenders trust.
Cloud-based benefits
Scalable and agile according to the growing or receding demands of your company
IT expenditure is reduced as you're only paying for what you use
Security sensitive data is not stored on computers and devices.
Instantly updates across platforms, for all people.
Aid communication and synergy
With people working from home in greater numbers than ever, the document sharing capabilities, internal chat systems and live feed option, enable your teams to bounce ideas off each other, work on projects and discuss strategies seamlessly.
Notifications and announcements can all be shared and received instantly, via mobiles and computers alike.
Performance modules even allow feedback to be given and received.
Deliver unbiased analytical capabilities
Aside from streamlining processes and maximising the efficiency of key functions, the best HR software allows you to use analytical technology to progress people management to new levels.
Models and algorithms can be applied to collected people-data to obtain valuable insights in the form of reports, graphs and visuals.
This data can inform talent acquisition, performance management and retention.
Training gaps can be identified from performance management data, allowing precision in the application of training courses.
Turnover rates for each department and the causes of outcomes can be identified and ultimately forecast.
The implications in terms of improving decision-making processes are vast.
Talent and relationship mapping
The most cutting-edge technology available supports the advancement into more strategic business operations – mapping the connections between skills, qualifications, career histories and professional relationships within the workforce. This kind of capability allows organisations to rapidly recognise and assemble the best team for the successful delivery of each project.
Supports compliance
When disorganisation can result in lawsuits and employee disputes, this is one area that needs to be managed with an iron fist.
You can use HR software to collate all company policy documents and health and safety certificates, receive automated reminders for data deletion, collect e-signatures and much more.
Some HR systems will give you unlimited document storage – all types supported, and document templates.
You can build compliance into your system with functions like rota planning that implement multiple break types within a single shift, ensuring legal restrictions on employees' working hours and time off are met.
If time is money – reducing costs by maximising efficiency is imperative to the success of any business.
The contribution afforded by the best HR software can be game-changing, claiming nothing short of a transformative outcome for company revenue and growth.