Key challenges in seasonal recruitment for 2023
2023 is a tough year for seasonal recruitment, with competition from the rising gig economy and a rough "war of the wages" raging. Read more now.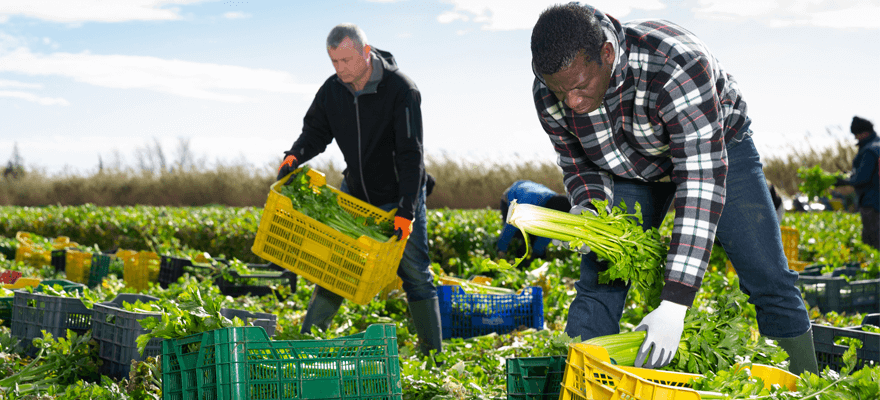 While Christmas and the summer holidays are joyful highlights in the calendar, we know these periods pose significant challenges for HR teams, working behind the scenes, trying to hire seasonal staff in a tough recruitment climate.
Stiff competition from year-round employers
Take the agriculture sector for example, which is heavily dependent on seasonal crop pickers.
Last year, up to £60 million in UK crops was left to rot due to a lack of workers with farms falling 14% short of the workforce they needed on average. A failure to be able to recruit staff was part of the problem, but there were engagement issues too which manifested in poor attendance and staff retention.
Recruiters in the agricultural sector have been struggling to find seasonal talent in a UK environment of high employment, and persistent competition for talent from the warehouse and delivery sector which offer higher pay, more job security, and greater flexibility.
We can't ignore the impact of Brexit
Arguably, Brexit and the war in Ukraine have impeded the flow of temporary harvest workers from the EU. (Ukraine has in recent years supplied a significant proportion of the UK's harvest workers).
While the government last year made 38,000 seasonal worker visas available, this was not nearly enough according to the farming industry which suggests that 70,000 are needed at a minimum.
This seasonal worker visa cap has only been increased to 47,000 in 2023, so supply problems are set to persist this year.
Waging a war for wages
The hospitality sector is locked in a war for wages: the job site Adzuna revealed last year that employers were not afraid to pay some eye-watering rates to attract workers: £18.70 an hour for a cleaner, £14 an hour for an ice cream operative, £11.86 per hour for a lifeguard, and jobs at festivals paying £14 an hour.
Those HR professionals involved with setting pay levels will have their work cut out for them this summer of 2023. Because this salary hand may have been overplayed and could offer diminishing returns.
There is no easy answer really, just careful salary benchmarking and a responsive, economically sustainable pay strategy.
Increased competition from remote work
According to reports from Indeed, job seekers are searching for remote work with increasing frequency. 3% of all searches on Indeed relate to remote working which is a record high for the platform.

However, remote work is not usually appropriate for seasonal roles, creating further hiring challenges for the sector.
Flexible working is the trump card
While remote working may be out of reach for much of the seasonal sector, flexible work remains a trump card, which can and should be played.
According to a CGA hospitality survey, flexible working is still a key deciding factor for taking a job and being satisfied in the seasonal work sector. The harsh inflationary environment of the present means that many workers will be using seasonal work as part of their second or third jobs strategy, putting flexibility at a premium.
Companies like Young's Pubs and Brewery, (whom we have talked about before), have developed the RAM Agency an online HR software platform that can be accessed by chefs and back-of-house staff, which allows them to create their own working rota by accessing and selecting shifts across Young's 210 pubs.
Flexible working can enable employers to overcome seasonal hiring challenges because it remains a crucial differentiator in the seasonal work candidate marketplace. There is an operational barrier to entry and as a result, those seasonal employers that do invest and implement a sustainable flexible working programme, can get a significant competitive edge in the candidate marketplace.
Engagement and retention
We mentioned earlier that a key challenge with seasonal workers was not just hiring them, but retaining and engaging this transitory part of the workforce. Since flexible working boosts satisfaction according to the CGA hospitality survey it follows that it can also boost retention and engagement.
The hospitality sector (one of the chief employers of seasonal workers) has been blighted by job insecurity. And we cannot escape the fact that studies show that this lack of job security drives down engagement and trust.
Remedies to this problem are not obvious, but one potential solution is dangling the carrot of long-term employment, perhaps by allowing seasonal workers to access the internal careers board, so they can envisage or even apply for longer-term or year-round employment. This is not possible in all businesses, but when applicable it can build a greater sense of job security and trust.
It is set to be another tough year for employers hiring and retaining seasonal workers. But those employers who can read the room correctly and, as a result, build flexible working and some degree of job security into their value proposition (competitive compensation must now be a given), should get a competitive edge in the marketplace.
Does your HR software let you manage seasonal workers effectively? If not, you may wish to explore SenseHR – a new HR system for 2023 that is built to include all types of employment contract and classes of worker, from part-time and full-time through to agency, seasonal and freelance. Learn more here.