Does HR software play a role in emergency evacuations?
HR software is playing an increasingly important role in supporting emergency evacuations. Especially in cases where it can tell you who is in or out of the building.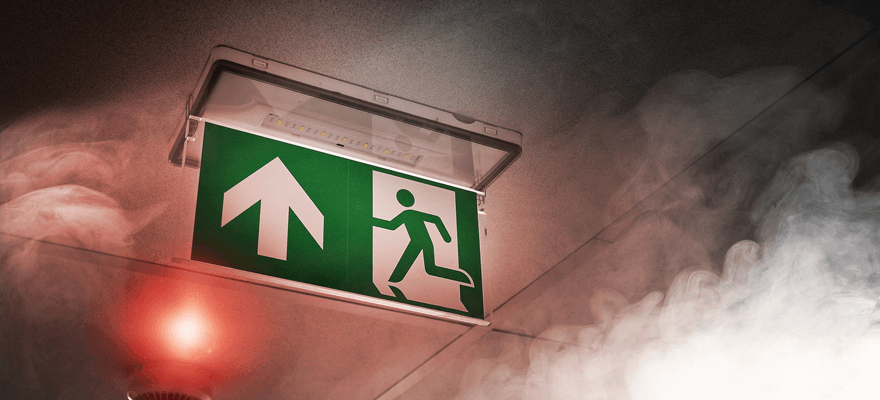 Due to the nature of the pandemic and its drastic impact on employee well-being, HR has in recent years assumed an increasingly important role in disaster and emergency planning.
With the dust settled, now is a great time for HR professionals to build on this legacy by incorporating state-of-the-art, HR software functionality into their emergency planning processes.
Today HR software has a huge role to play in streamlining your emergency evacuation procedures because it can automate and streamline the tracking of headcount during emergency evacuations.
Such HR software has become essential in this time of hybrid working and hot desking. In an organisation with a highly distributed and contingent workforce, it can be a challenge to know the exact physical location of employees in an organisation at the point of evacuation. Generating a reliable attendee list and conducting a reliable roll call in these transient, digitally nomadic working environments can be challenging.
These HR software tools with a sophisticated evacuation management feature-set arguably become indispensable in these highly distributed workforces with highly complex roll calls. They can streamline and simplify the typical fire warden's evacuation duties shown here:
Typical duties of a fire warden around evacuation management:
Evacuation assistance:
Assist in the orderly and safe evacuation of employees, contingency workers, and visitors during fire drills or actual emergencies.
Provide guidance and support to individuals who may require assistance during evacuation, such as those with mobility issues.
Sweep their areas first and then visually sweep any adjacent rooms, cupboards, stores, or toilets on route to the direction of travel of the escape route and final fire exits.
Headcount and accountability:
Conduct roll calls at assembly points to account for all employees, contingency workers, and visitors and report any missing persons to emergency services.
Maintain records of headcounts and evacuation drills for compliance and analysis purposes.
HR software can make your fire warden's job more manageable by helping them with the emergency evacuation management process in three main ways.
1. HR software enables a faster sweep of the building in an emergency evacuation
While a large part of the evacuation task is physical, HR software can streamline this process by ensuring this task is intelligence-led. Best-of-breed evacuation management HR software tools come with sophisticated evacuation intelligence functionality.
When a fire drill or real emergency occurs, these apps can tell you or your fire warden who is still inside the building and where they were last seen. This enables the warden to quickly identify people who may be indisposed in errant locations and ultimately conduct a much faster, safer, and more reliable sweep of the building before they themselves exit.
These tools can often be co-related with HR disability data making it easier for fire wardens to locate disabled or otherwise challenged employees who need additional help with evacuation.
2. Enables rapid creation of a reliable list of attendees for roll calls during the evacuation
Another key duty of the fire wardens is the conducting of the roll call, which of course relies on having a reliable list of attendees that day.
Manually generating reliable lists of attendees for that day can be time-consuming and cumbersome, particularly in large multi-site locations with hybrid working, hotdesking, and contingent workers.
Good HR software with appropriate evacuation management can automatically generate a reliable attendee list and send it straight to your mobile device. How does it do this? Typically, the evacuation software will have a real-time feed of physical clock-in and clock-out data, so it knows exactly who is and isn't in the building at any time.
For this to be reliable all visitors must be routinely tracked so be sure to choose HR software that is flexible enough to track the more transient contingent workforce who now frequent most offices daily, to ensure they don't fall between the cracks.
You can actually check the physical location of employees using bluetooth gateways, if you want to get really smart – SenseLocate is a great example of this, available to customers who buy our HR software.
3. HR software automates the headcount and roll-call compliance admin
We know that fire wardens are often busy employees who have voluntarily taken on this important fire safety duty in addition to their normal jobs. When the drill is over it can be a challenge to complete follow-up admin to ensure compliance with fire-safe protocols while also doing their day job. Good HR software can streamline this process by automating the documentation, record-keeping, and future reporting of attendee lists and roll call data.
HR software has a significant role to play in streamlining the employee evacuation management procedure in modern organisations, allowing fire wardens and fire marshals to perform their duties in a safer, more reliable, and more time-efficient manner. Organisations with multiple locations onsite, who deploy hybrid working and who make use of contingent workers on-site stand to gain the most from using HR software to support evacuation management.