5 key things that your HR system should do 
You've decided to support the smooth running of your HR department with some slick new software. And may we just say, that's a great decision.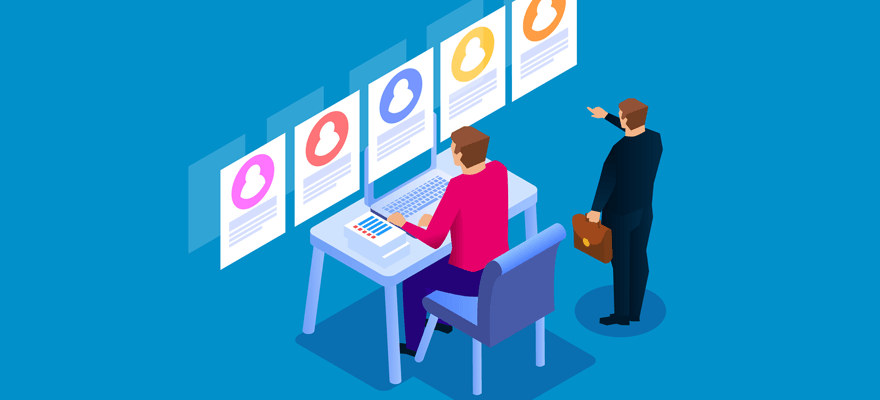 You've decided to support the smooth running of your HR department with some slick new software. And may we just say, that's a great decision. You'll be head of HR in no time (if you're not already). But what's next? Don't worry. We're here to pave your way to HR GLORY! Ahem… and to support your organisation and its people, of course.
Shopping for HR software isn't that different to shopping for anything else. You decide what kind of product you want (HR software ✓), list your 'must haves', decide on a budget, and off you go. While we can't analyse every one of your unique requirements in this post, or decide on your budget for you, we can kick-start your analysis with 5 features that every HR software system should have.
Just a quick aside—whether you're looking at a human resource information system (HRIS), human resources management system (HRMS), or a human capital management (HCM) system, you should be aware that these terms are used interchangeably and depending on changing trends. That means, you should always explore what a system can do, and not rely on what it's called.
With that in mind, let's jump in.
1. Core HR tasks with automated workflows
This is a cheeky one, which covers several features, we admit. But naturally, you'll need all the key human resources tasks, processes, and workflows to be covered by your human resources software.
While you might expect that every system would have functionality for traditional people management tasks, you should always double-check that onboarding and offboarding, benefits, disciplinary and grievance procedures, training and qualifications records, organisation charts, scheduling tools, and secure management of people data and access permissions are listed under the basic tier of features.
But wait! Before you head off into the HR sunset with a system that includes all the traditional tools, don't forget that HR administration has changed a lot over the last two years. That means that there are some emerging core tasks that are often overlooked, but nevertheless essential. The most important one, which is often missing from HR systems, is the ability to customise profiles and use the full list of system functions for all the different employment types, not just employees. Even if you're not yet using freelancers, contractors, zero-hour workers, agency workers, and so on, that doesn't mean you never will. It's essential that any HR system can process all your people elegantly, no matter how they are contracted.
And the whole reason that you started looking for software in the first place was to manage your workload and streamline your processes, right? So, any HR software should automate whatever it can, simplify everything else, and make sure everything meets all government and security compliance requirements.
2. Time and attendance
All HR management software should include features to track absences and log working hours. But make sure you can customise the system to incorporate your own policies and practices. And make sure that paid time off (PTO) features—a fantastic US term, which is right up there with rain check—are automated, removing any potential for human error, and frustration on both ends of the pay packet.
3. Self-service
This isn't a traditional requirement, but it's fast become an absolute must for any modern HR software. Employees, self-employed contributors, and agency workers alike expect the convenience and autonomy of a self-service portal.

The best software will give your people that ability to log in from anywhere, on any device, with the access permissions that you set. From there, they can do things like updating their personal and tax information; access their holiday and absence pay calculations and request leave; track their career development, training opportunities, and qualifications; have direct input for their schedule; and much more. It's no wonder that cutting out the intermediary (yup, that's you) in basic employee transactions empowers all system users, including the intermediary (you again), who is now free to perform more strategic functions. Hooray!
Moreover, self-service functions can close the feedback loop, allowing employees and other people working for your organisation to have their say in a practical way. And that encourages engagement at, and between, every level.
4. Reporting and dashboard
For any HR department that values growth and development (and as the famous William S. Burroughs quote puts it "When you stop growing you start dying") HR reporting is an essential tool. It's often overlooked because many HR departments see it as a nice extra or don't see how it can benefit a smaller organisation. But good HR systems collect, collate, and compare the data for you, providing handy charts, graphs, and tables as part of plain and clear reports. These kinds of insights can help you make important, strategic changes and decisions that can have a positive effect throughout every department in your organisation. And a great system will allow you to configure and schedule custom reports, as well as keep other people in the organisation updated with the reports that matter to them.
5. Integration
No department is an island, and that is especially true for human relations. There is nothing more frustrating for HR professionals than having an all-powerful HR system, that won't communicate with any other software. What is it that the Genie says in Aladdin? …"Phenomenal cosmic power! Itty bitty living space." That's why integrations make our list at number 5! And we don't just mean software integrations either—although you'll need payroll, Microsoft Office, and Google integrations at the very least. You'll also want your HR software to have features for interfacing with third-party service providers like accountancy firms, payroll bureaus, insurers, and legal advisors.
Bonus: Unlimited document storage
Another common but easily avoidable frustration for people managers is software that limits document storage capacity. If you give yourself one work gift this year, make it HR software that doesn't place unreasonable limits on your HR genius … or your documents.
… OK, we're sneaking one more because it's not about the HR software itself but HR software support. Great customer support features are vital. However great your chosen software is, there will come a time when you need to reach out to a real person to help you. Make sure that person will be there when you curse call.
SenseHR include all the features discussed in their basic package and much, much more. And we provide UK-based phone support and 24/7 online support. To explore our full list of features, have a look at our price page.