A new generation of agile HR for a flexible workforce 
The people profession is about effectively managing and developing all the people who make up a workforce. HR means human resources. So why do so many HR software solutions still prioritise the traditional full-time employee over every other human? It's because it's easy to build a restrictive system. Not because it's right. But we fixed that for you… you're welcome.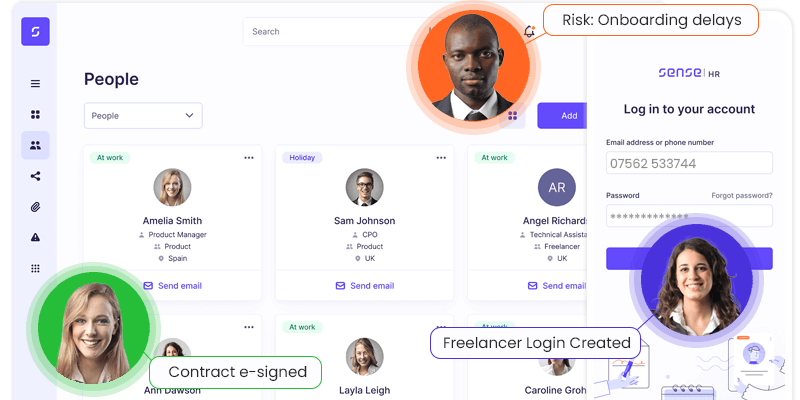 Whenever blogs mention non-standard workers—that's anyone who doesn't work fixed, full-time hours, on an open-ended contract, for a single employer—you'd think they were a new thing. And they're often called the 'new' ways of working.
It's as though gig workers, freelancers, zero-hours' contractors, or any other type of flexible worker recently emerged into the world from a primordial soup of Covid 19, economic uncertainty, a mass quest for work-life balance, and technological advancements.
Endless numbers of articles talk about the growth of the gig economy. Or how self-employment numbers are creeping up against traditional employment figures. Or how zero-hours contracts are a threat to worker rights.
And if you focus on the figures for the last 60 years you can see why. Self-employment has steadily climbed from around 7% of the total employment figure in 1962 to around 13% in 2022.
But if you take a broader view, it's the 1962 figure that stands out. 160 years ago, in 1862, self-employment figures were around 13%—that's the same as they are today.
So, high self-employment figures are old news. Gig work started with the jazz club musicians of the early 1900s. Zero-hours contracting—if there was a contract—has been the norm since employment began. And freelancers were medieval mercenaries who would fight for whichever nation or person paid them the most.
Looks like the 'new' ways of working aren't so new after all.
Instead, it's the demand for organisations to elegantly manage flexible workers that's new.
So why do organisations suddenly care so much?
Because workplaces, products, customers, and processes have changed. Organisations are fast paced. They need to be elastic. They have one-time projects and agendas. They're seasonal. They're growing. They're global. They're changing every day. And they want to make the best use of temporary workforce flexibility.
They want the option to bring in the talent that's on offer from 'portfolio careers'. Or to benefit from the specialist knowledge or skills that consultants and contractors can provide. And capitalising on a more transient workforce, perhaps coupled with a smaller core workforce of employees, means fewer obligations, the ability to scale up or down quickly, and the advantage of quickly finding and onboarding the right people for one-off projects.
But that means adapting HR processes and systems to the way flexible workers are sourced, onboarded, integrated, paid, and contracted, as well as smoothly managing the way that employees and non-employees work together. And off-boarding becomes a more central process too, rather than a footnote. Afterall, it's more likely for self-employed contractors and freelancers to return time-and-time again.
It's not just the organisations that would reap the rewards of such a system—non-standard workers would benefit too. Instead of feeling like 'the other' in an established workforce, they could integrate, adapt to company culture, communicate and connect with their teams, and learn the processes and products quickly. And instead of being treated like a supplier, getting lost in the pay cycle, they can be set up with established invoicing procedures quickly and easily and look forward to being paid with the same regularity and simplicity of an employee.
One (software system) for ALL
An HR software system that can elegantly manage and develop ALL the people who make up a workforce, no matter what their contract says, is not easy to come by. Legacy software systems can't do it. They're too rigid—too restrictive—and that's down to the way they're built. They're just not agile.  
And an HR system that caters to everyone needs to be agile. And that means customisable, data driven, and intelligent. So that no matter how workforces might change and develop, every organisation can always stay one step ahead and serve the workforce that they have, not the workforce that a legacy software dictates.
It needs to be human-centric. And that means offering a great employee (and non-employee) experience with self-service features to rival the best social media offerings; smooth, efficient, and thoughtful onboarding that engages and delights; a user experience that reflects the company culture at every turn; and offboarding that doesn't say 'goodbye forever', but instead says 'see you around'. With a system like that transient workforces can hit the ground running, will become enthusiastic brand ambassadors, and will always want to come back for more.
And it needs to support strategy. That means talent and relationship mapping and rapid reporting. With a system like that people managers can quickly find and assemble the right people with the right abilities to deliver any project, no matter whether they've been a member of the workforce for 3 days or 3 years. And the real impact of flexible workers can always be measured.
And it needs to support financial wellbeing. That means giving people access to their own personal dashboard, where they can request time off, find extra shifts, or view payslips and running totals for gross pay. And where documentation, guidelines, processes, and people are easy to find. With a system like that, newcomers can stay in the loop without any background knowledge.
And it needs to automate ALL transactional tasks. That means a system that can cater for all non-standard workers with elegant, customisable, and reusable workflows. Workflows that can support a range of regulatory considerations, working hours, leave processes, and more. With a system like that HR professionals and their organisations can welcome anyone to their workforces and offer the same fantastic employee… and non-employee… experience for all.
Does a system like that sound good?
We thought so. That's why we built it. Check out our HR software here.