5 types of remote working models explained and evaluated 
Explore 5 remote working models, ranging from fully remote to office-based, that help organiations find their ideal balance in a post-pandemic world.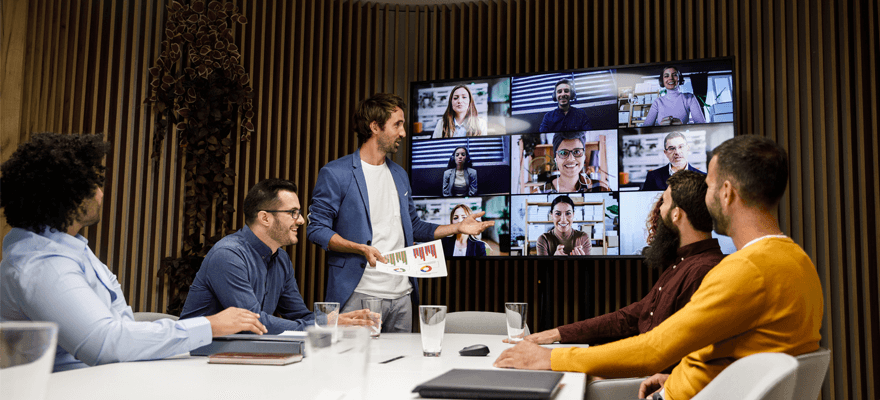 By the time remote working arrived during the pandemic, one could argue it had been a long-time coming. However, the legacy of the stay-at-home mandates and fear of infection has arguably been an over-correction toward remote working. Post-pandemic, we are seeing some necessary retreat from fully remote working as organisations and employees find their hybrid working new normal, with the aid of enabling Human Resources software.
This process has not been without controversy: high-profile return-to-the-office mandates from the likes of Apple, Google and Amazon have created some tensions with resistant staff. However, we don't have to return to the polarized, pre-pandemic tussle around remote vs home. Today, people managers can choose from an eclectic range of remote work models (supported by appropriate Human Resources software), spanning the spectrum from mostly office to mostly remote as shown below.
1. Asynchronous fully remote working  
This is perhaps the remote work Utopia, which is where you can work pretty much anytime, anywhere in the world if you have cutting edge collaborative Human Resources software. (The asynchronous refers to the fact that in this model there are no core working hours.)
Face-to-face meetings are limited, perhaps, to a once-a-year global summit in an extravagant, equidistant location, which of course everyone wants to commute to!
The main examples of this extreme model of remote working are found in the US not the UK: Buffer (a Twitter post-scheduling app), is one of the most famous proponents of this model. They are a fully remote team of nearly 100 employees, distributed across the planet in 15 countries and 11 time zones, serving 75,000 customers. They meet face-to-face at company retreats hosted all over the world and function with a 4-day week.
Being asynchronous means you won't all be online at the same time and for some, the working day may never overlap, so there will need to be a strong emphasis on effective written communication through platforms such as Microsoft Teams, Slack, or even collaborative Human Resources software. This can be a challenge for any workers for whom English is a second language and so native/advanced writing skills in English are essential in such environments. This model has huge real estate savings, and is lightning quick to setup, making it a great way to start a global business.
2. Synchronous remote working   
As remote organizations become larger and/or function within a regulated space like finance, then a legal and visible office presence of some sort is needed, meaning that fully remote working may not be advisable. Synchronous working built around core working hours, and social Human Resources software is also needed to support the increased collaboration needs of a bigger business.
3. Hybrid – combining remote and co-located workers – flexible.
Research suggests that around a quarter of UK workers are now hybrid working while nearly 78% of employers allow some form of hybrid working either through formal or informal arrangements. The balance between office and remote working varies and just over half of companies surveyed by the CIPD require hybrid workers to be in the office for a minimum number of days each week (43%), or each month (12%). The typical minimum attendance requirement was 2 to 3 days a week. The main drawback with this type of working is that it can be hard to plan office space which means you may need to oversupply/overspend on real estate. The main benefit of this approach is that flexible hybrid working in a cutting edge environment of collaborative Human Resources software is what most people want and so people managers will find it easier to attract talent.
Vodafone is a good example of a company offering a hybrid working model. Many roles became fully home-based during the pandemic, but they now offer flexible working models as part of their 'future ready way of working' which include hybrid roles with some face-to-face contact and some pretty much fully remote roles. Skipton Building Society, KPMG, Capita and Mastercard are companies that allow the majority of the employees to work at home on a flexible/hybrid basis supported by collaborative Human Resources software.
4. Hybrid working – fixed
The hybrid working – fixed model is a slight variation on the flexible hybrid working model in that the company has a fixed amount of office workers and home workers. This means that the HR Professionals can carefully plan their real estate needs and have a smaller footprint than with a flexible hybrid working model, reducing square footage and rental/leasing costs. If you are requiring employees to work at home, you may need to pay for some home equipment and invest in more advanced collaborative Human Resources software.
5.Office First
This is the old-school pre-pandemic status-quo where people work primarily in the office, bar the odd day homeworking, (to let the plumber in!) Post-pandemic, there are many executives and people managers who believe that productivity and collaboration are improved when people work in the same office. Apple, Microsoft, Citi Group, JP Morgan, Google, Twitter, Amazon, and Goldman Sachs are just a few of the companies who put forward return-to-the-office mandates for their office first strategies. There is some risk to this strategy because it is swimming against the tide. Research from Yougov shows that the proportion of adults homeworking increased in 2022 with 38% of hybrid working compared to 12% pre-pandemic. A rigid office first policy could damage your ability to attract and retain talent.
After reviewing many organisation's remote work practices, it's clear there is no one-size-fits-all approach– the hybrid working models are tailored to suit each organization, its composite roles, unique ways of working and client expectations. If the working models proposed here suit your organization, then all well and good, but if not, you can use these models as inspiration to develop your own remote-working model suited to your business needs.
If you do have a remote working model not mentioned here, we'd love to hear about it in the comments below.